Animal feed & forage testing
Testing animal feeds and forage allows you to evaluate the feeds and ensure profitable, well-balanced rations which in turn help to avoid nutritional disorders.
Animal feed registration form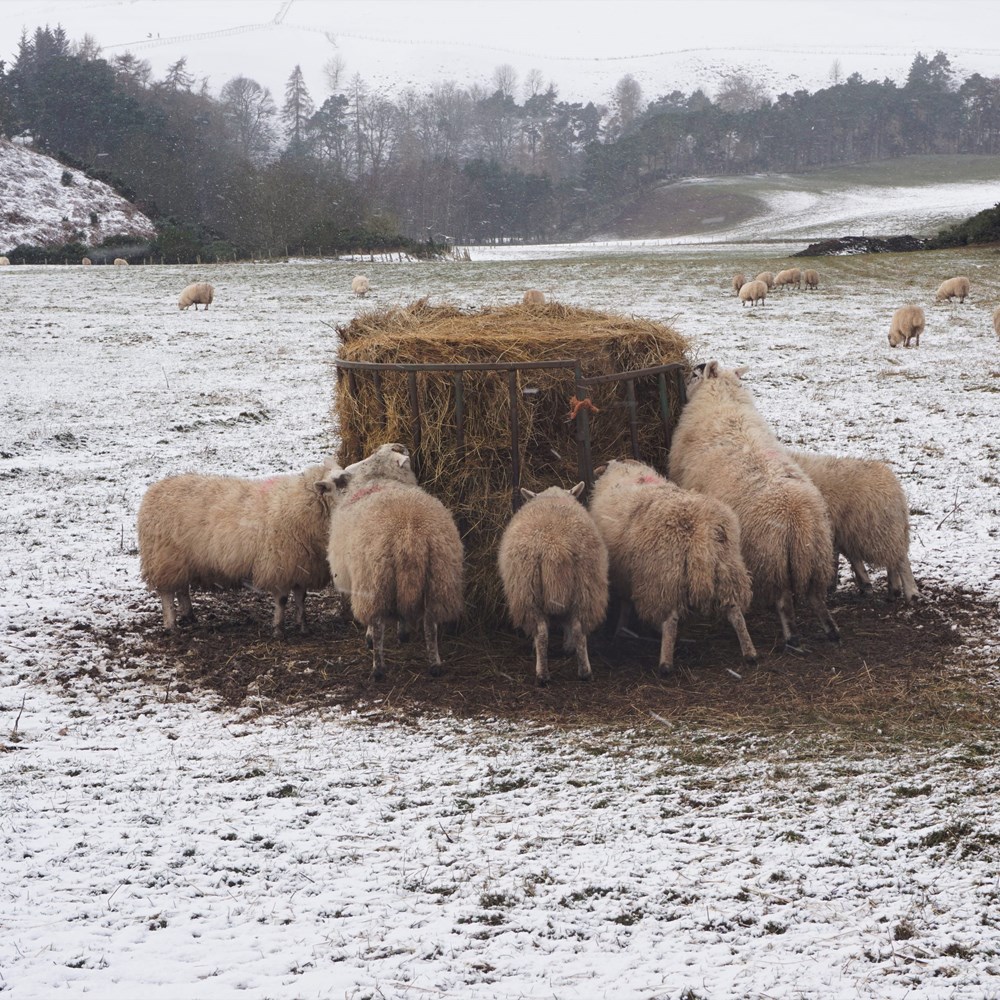 Forage is the core feed for most housed animals. The amounts and types of additional feed can only be determined once knowledge of the quality of forage being used is determined. Forage is highly variable. Using "average" figures in ration formulations can give false rations. Bought-in feed is costly and can only give economic return when used in conjunction with knowledge of the quality of the forage being used.
Forage should be tested before the start of the winter feeding program. Ideally further samples should be taken throughout the winter so that rations can be adjusted to take into account changing silage composition.
We also provide full proximate and a comprehensive analysis for concentrates and compound feeds with predictions of energy values. We offer testing on feeds for a wide range of animals including pigs, horses, poultry, sheep and cattle.
Ensuring you have the correct ration can save money, improve milk yields and milk quality and improve beef production. To assist you further, our qualified consultants can carry out rations.

View the full test list.
SRUC is a member of the Forage Analytical Assurance (FAA) group

The Proficiency Test Scheme provides each member with a set of standardised test samples every month from summer to late spring. These are assessed to ensure the samples are homogenous and each lab is receiving the same sample. Each laboratory analyses the samples according to their normal commercial method and reports the results to the group. The results are then statistically reviewed and compared to two standards:
against a Master NIRS (Near Infra-red Spectroscopy) Instrument. This is a widely used rapid technique for forage analysis in laboratories and on farms
against the gold standard of wet chemistry analysis carried out by an ISO accredited laboratory
Having both sets of results allows the laboratories to confirm that their instruments are calibrated and performing correctly and that the rapid analysis techniques are a good reflection of wet chemistry results. The member laboratory's performance is graded from agreed nutrient data. Over the year a picture builds up to show how reliable and consistent their analyses have been. If there are any problems action can be taken.
Visit the FAA website to see how the SRUC laboratory has performed across the season.
How to take an animal and forage sample
The results of any forage analysis are only as good as the samples taken. Correct forage sampling takes time, but following the guidelines detailed here will ensure that this time is not wasted. To take a silage sample you will need:
A sampling tool (the best option is a corer)

A bucket or plastic sheet (for mixing the sample)

Sampling bags and a waterproof marker pen
Detail sampling guidelines
Silage and hay samples should be collected before starting the winter feeding program to produce an initial ration. Thereafter samples of silage can be taken throughout the winter so that rations can be altered to accommodate the change in silage and stock performance.
Silage sampling should not be done within six weeks of sealing the clamp to allow a stable fermentation to be achieved.
Core samples should be taken from a minimum of three sites in the clamp. Make sure the corer reaches the bottom of the silo, as vertical variation within clamps can often be great.
Face samples should be taken from side to side and top to bottom following a "W" pattern, with sub samples taken at each 'point' of the "W" (i.e. five samples). Grab samples from the face of the clamp will give the best indication of what animals are eating at a particular time.
Grab samples from three or more bales are sufficient to give a representation of quality. These samples should be bulked together and thoroughly mixed. A minimum of 0.5kg should be sent to the laboratory in a well-sealed polythene bag. Remove as much of the air as possible before sealing the bag. Client name & sample ID should be clearly marked on the bag.
Due to the nature of wholecrop and maize silage it may be necessary to take more grab samples in order to produce a representative sample suitable for sending to the laboratory.
For concentrates or compound feeds/pellets a representative sample should be taken from the bag or bags concerned. This should be submitted to the lab in a sealed polythene bag (approx. 300-400g is sufficient).
When grains are urea treated it is important to mention this on the registration form. This will enable the lab to carry out the correct analysis for this treatment. It is also important to keep urea treated samples cool to prevent the loss of ammonia nitrogen.
Please remember to send a copy of your registration details and analysis requirements when you submit samples to the laboratory.
Avoid:
Any areas of the face which are mouldy or damaged in any way, and this material is not being eaten, they should be omitted from the sample
Freezing the sample can cause disruption of fibre fractions due to the formation of ice
Posting samples on a Friday. When possible store in a "cool box" or fridge until dispatch to the laboratory
Find out more about our services