Graduating against the odds
Students at SRUC will take part in an online celebration today after their graduation ceremony was cancelled due to the coronavirus pandemic.
More than 170 students – who were due to be awarded their degree and postgraduate awards at the University of Glasgow's Bute Hall – chose to graduate in absentia. They have been offered the opportunity to return for a celebration next summer if circumstances allow.
A further 20 students have deferred their graduation until 2021, while HN students will receive their awards later this year.
Despite the impact of Covid-19, ten students are graduating with a first-class honours degree this summer – with another five deferring graduation until next year.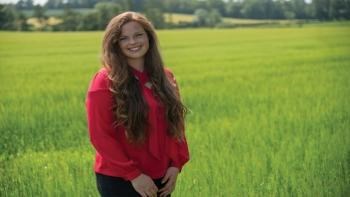 "Tiffany Mactaggart has landed a job with SAC Consulting"
Among the graduates choosing to defer is Tiffany Mactaggart, 25, from Bonchester Bridge, near Hawick, who has achieved a first-class BA (Hons) degree in Rural Business Management – and has landed a job as an Agricultural Consultant with SAC Consulting, part of SRUC.
For some students, Covid-19 was an additional obstacle they had to overcome to graduate against the odds.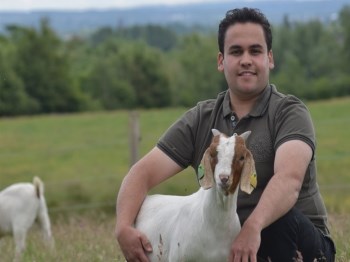 "Kaleem Shaikh with his goats"
Kaleem Shaikh, 25, from Uddingston, came from a non-farming background to do an NC Agriculture at SRUC's Oatridge campus in 2012.
Eight years later he is graduating with a 2:1 BSc (Hons) Agriculture degree and has built up a small flock of pedigree sheep and goats – despite having to undergo multiple surgeries and extensive physiotherapy after suffering from displaced discs in his back.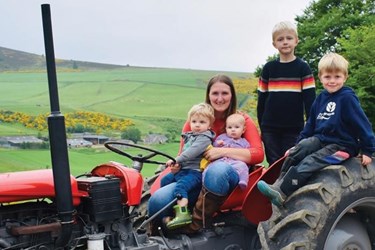 "Katie Insch with her children Angus, Ada, Lachlan and Brodie"
Another new entrant to farming, 32-year-old Katie Insch from Alford, Aberdeenshire, worked her way up from an HNC to achieve a 2:1 BA (Hons) Rural Business Management degree – as well as holding down a manager's job, running her farm, helping in her parents' business, and giving birth to the youngest two of her four children.
In a message to the graduates, Principal and Chief Executive of SRUC Wayne Powell said: "While this may not have been how you saw your studies coming to an end, it is certainly a historic time to be graduating – and one which you will remember for the rest of your lives.
"It is a testament to your hard work that you have managed to complete your studies despite the disruption caused by the coronavirus pandemic.
"We are very proud of the way you have adapted and I'm certain that the skills we have all learned during this crisis will serve us well in the future. Indeed, learning to think about uncertainty and adapt to it is one of the most important skills you can acquire."
Posted by SRUC on 06/07/2020