Vet nurse extends caring hand to people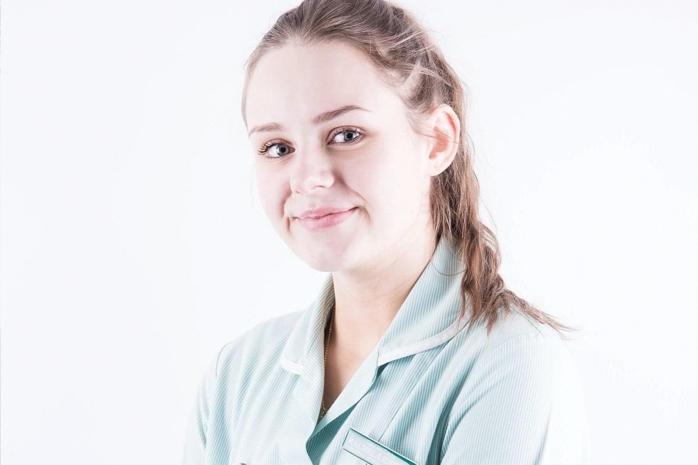 "Vet nursing student Rachel Liddell has been helping people as well as animals during Covid-19"


An Ayrshire veterinary nursing student has extended her caring skills to people during the coronavirus pandemic.
Rachel Liddell, 20, from North Ayrshire, is studying for a Level 3 Diploma in Veterinary Nursing at Scotland's Rural College (SRUC) while working at The Oaks Veterinary Centre in Saltcoats.
When a blind client had to have his guide dog put to sleep, Rachel – who was writing sympathy cards for clients – realised he wouldn't be able to read a card if she sent one.
Vet Sarah Lamont, who works with Rachel at The Oaks, said: "She really wanted him to have one that was personal and that he could read, so she contacted The Guide Dogs for the Blind Association and asked if they could make a brail insert to send in a card."
A deaf client who brought his dog in for an appointment also received special treatment from Rachel, who studies at SRUC's Oatridge campus in West Lothian.
"When she went out to get the dog from the car park, she realised the man was deaf," said Sarah. "After the dog had been vaccinated, she typed out what she wanted to say to the owner on a sign language app. When she took the dog back to the car park, she then signed an overview of the consultation."
Sarah added: "We have a lot of talented nurses at our practice but there is something very special about Rachel. She is far beyond her years in terms of her nursing skills, but also has a special quality about her that you cannot teach.
"She goes above and beyond for people and I have noticed this even more so as we have been going through the challenges of Covid-19.
"She has offered to deliver medication and food to people who are shielding and can't get out, even if this means doing it in her free time. Nothing is a bother to her."
Rachel, who has been unable to sit her final exams due to Covid-19, said: "I have always been passionate about helping animals and being part of the first line of care.
"Veterinary nursing is so rewarding and being able to nurse a patient back to full health and return it to its family is an amazing feeling.
"I have really enjoyed being in practice and feeling part of a very close team as well as learning something new every day to further my knowledge and help each and every patient."
For more information about studying Veterinary Nursing at SRUC, visit: www.sruc.ac.uk
Posted by SRUC on 13/07/2020