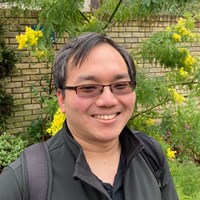 Hi I'm
Dr CJ Yang
Position: Postdoctoral Researcher
Location: Edinburgh Campus
Expertise:

Agriculture, Crops and Soils
I am a Postdoctoral Researcher in plant quantitative genetics. Most of my work is computational with a focus on statistics and simulations. My projects centre on developing novel methodologies for breeding programme improvement.
I was previously a Postdoctoral Researcher at the Technical University of Munich. I received my PhD in Genetics from the University of Wisconsin-Madison and my BSc in Biotechnology and Mathematics from Indiana University Bloomington.
In my free time I enjoy exploring foods with familiar and unfamiliar tastes.  
Areas of expertise and interests
Agriculture, Crops and Soils
I'm currently working on
epistasis (gene interaction) mapping using a variance-based test approach
Additional links
Find out more about our research services