SRUC courses well placed to meet climate challenge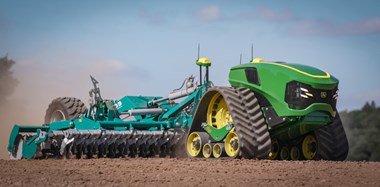 John Deere's autonomous electric tractor concept, which was unveiled at AGRITECHNICA last year. Credit: John Deere
New SRUC degree courses that explore everything from land management change to electric tractors will help to respond to the climate challenge.
The Agricultural Technology Programme – to be offered from 2021 at SRUC Barony near Dumfries – covers the use and production of renewable energy and how it might be integrated into farms' energy systems, addressing concerns outlined in the new Farming for 1.5°C Inquiry Interim Report.
The course covers the potential electrification of many aspects of farm motive power, with the limitations and advantages of electrification considered in detail.
A greater focus on precision agricultural techniques will also be required on farms in the future. And so how sensors and sensor systems work and, just as importantly, how the subsequent data streams can help inform farm management decisions are also key elements of the programme.
The Sustainable Food Production and Land Use Programme, meanwhile, develops an understanding of how Scottish agriculture must change to meet the challenge of the industry being a mitigator rather than a contributor to climate change.
Programme leader Jeremy Taylor said: "The NFUS-commissioned 1.5 report makes clear that a whole-farm approach should be adopted to provide a realistic pathway for change and to incentivise the adoption of best practice in production systems, soil carbon management, land-use and renewable energy technology.
"The Sustainable Food Production and Land Use Programme at SRUC does precisely this, taking students through all the facets of change required in Scottish agriculture to meet the concerns outlined in the report: system change, whole farm change, and land-use change are explored throughout the programme and developed into a comprehensive management strategy.
"Both programmes develop the comprehensive management system farms will have to use to meet their climate obligations."
To find out more about studying at SRUC, visit www.sruc.ac.uk/study
Posted by SRUC on 11/11/2020