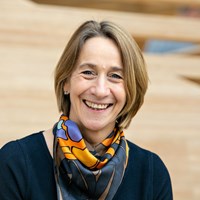 Hi I'm
Dr Susannah Bolton
Position: Vice Principal, Enterprise and Knowledge Exchange
Expertise:

Agriculture, Crops and Soils
Climate, Environment and Wildlife
Technology
Policy
Natural Economy
I have an integrating role working across the divisions in SRUC, bringing together research, education, knowledge exchange, skills and commercial. My role is about understanding what it means to be an Enterprise University, pulling together and mobilising a collective effort to turn knowledge and ideas into solutions that will have an impact on society and the natural economy. A big part of this is building strategic partnerships at the national and international level, looking at the potential to grow our presence and capacity in key areas of influence.
Before I joined SRUC, I was Research Director for the Agriculture and Horticulture Development Board (AHDB), where I commissioned research and knowledge exchange activities on behalf of Farmer and Processor Levy Payers throughout the UK. For the past 30 years, I have been working in the space between research and its application in practice, initially starting my career at Rothamsted Research, after spending three years working for EMBRAPA in Brazil and completing my PhD in Tropical Agroforestry.
I live in Harpenden, England, with my family and crazy cocker spaniel. I love music, art, and (when I get the chance) walking in the hills and swimming in the sea.
Areas of expertise and interests
Agriculture, Crops and Soils
Climate, Environment and Wildlife
Technology
Policy
Natural Economy
My professional highlights
Co-author of the book Science, Agriculture and Research: A Compromised Participation
former Company Secretary for the Rothamsted Research Association
leading the establishment of the AHDB Farm Excellence Network of Monitor and Strategic Farms
former Board Member of Crop Evaluation Limited and responsible for the AHDB Recommended Lists of Cereals and Oilseeds
former Member of BASIS Board of Trustees and Chair of the BASIS FACTS Committee
Member of the British Farm Data Council
Additional links
Find out more about our services