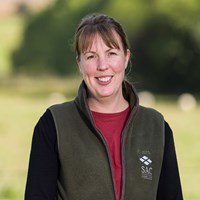 Hi I'm
Kirsten Williams
Position: Team Leader and Senior Sheep and Beef Consultant
Location: North East Scotland
Expertise:

Agriculture, Crops and Soils
Livestock and Fishing
Business Management and Finance
I am a Senior Sheep and Beef Consultant and Team Leader (livestock), based in the North East of Scotland. I specialise in sheep production systems and enterprise management, forage crops and business appraisals.
My role is extremely varied. I give one-to-one advice to farmers, deliver technical talks, write articles, facilitate podcasts and webinars, chair events, teach SRUC students and support staff at the network of SAC Consulting.
My portfolio is extensive and I have carried out work for numerous large industry bodies, such as QMS, AHDB, The Scottish Government, Scottish Enterprise, Aberdeen and Northern Marts. I graduated from SRUC in 2005 with BSc Agricultural Science (hons) and I am an accredited member of FBAASS, BASIS and FACTS.
In my spare time I run an agribusiness with my husband and two daughters, focussing on pedigree and commercial sheep and cows, and Christmas turkey production. In 2020, we were runner up in the British Farming Awards for the 'New Entrants Award'.
Areas of expertise and interests
Agriculture, Crops and Soils
Livestock and Fishing
Business Management and Finance
I'm currently working on
fodder beet and forage crop growing and grazing systems
enterprise analysis, specialist input in sheep systems and business appraisals
project management and facilitation of the Scottish Enterprise Rural Leadership Programme
writing articles for publications such as the SAC Sheep and Beef News
Find out more about our consulting services