Vitamin E
Interpretation of Vitamin E Results in Cattle
Vitamin E is closely linked with selenium and deficiency can lead to weakness, myopathy and occasionally sudden death. Absorption from the diet depends on a number of factors.
The reference range here pertains to older animals; in neonatal animals vitamin E levels depend mainly on colostrum intake and absorption, so insufficient colostrum intake or absorption will lead to lower levels of vitamins without there necessarily being a deficiency present in the dam. Vitamin E is heat labile, and exposure of the blood sample to bright sunlight for a short period of time can lead to its destruction and result in low levels being detected.
---
Price:

£24.15

Species:

Cattle, Sheep, Goats, Pigs

Disease/presentation:

Metabolic disease

Test type:

Biochemistry

Sample type(s):

Blood - clotted (red top), Blood - heparin (green top)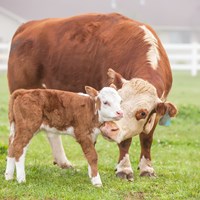 Further Information
UKAS Accreditation Status: Not accredited
Turnaround Time: 5 working days
SRUC VS Product Code(s): 1084710
Explore the broad range of laboratory tests we offer to support disease monitoring and diagnosis:
Find out more about our services