Mycoplasma bovis antibody
Interpretation of Mycoplasma Bovis ELISA Results serum/plasma)
S/P% < 60% = Negative
S/P% >/= 60% = Positive
Maternal immunity may result in positive antibody levels up to 6 months old.
Interpretation of Mycoplasma Bovis ELISA Results (milk)
S/P% < 30% = Negative
S/P% >/= 30% = Positive
Positive bulk milk results suggest exposure in the adult milking cows but do not give any indication of the timing of that exposure.
It is possible to have a negative bulk milk result and active infection in the young stock, so we would suggest screening calves over 6 months old for Mycoplasma bovis antibodies if further investigation is required.
---
Price:

£8.95

Species:

Cattle

Disease/presentation:

Systemic disease

Test type:

Serology

Sample type(s):

Blood - clotted (red top), Milk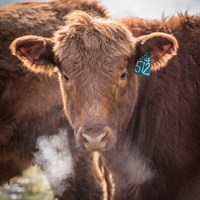 Further Information
UKAS Accreditation Status: Not accredited
Turnaround Time: 14 working days
SRUC VS Product Code(s): 1072950
Explore the broad range of laboratory tests we offer to support disease monitoring and diagnosis:
Find out more about our services