Liver fluke coproantigen ELISA - pooled sample
Interpretation of Coproantigen ELISA
>/= 8% - Positive
<8% - Negative
The coproantigen ELISA detects digestive enzymes produced in the gut of Fasciola hepatica which are associated with fluke migration and feeding. Coproantigens are present in bile and therefore detectable in faeces. Experimentally, positive results have been obtained from three to four weeks post-infection but positive results occur more commonly between six and nine weeks. There is considerable variation between individual animals and fluke isolates.
The test can detect infection with less than five flukes but in these circumstances the time to a positive result can be increased. On average the coproantigen ELISA will give a positive diagnosis of fasciolosis around two to three weeks before eggs can be detected in faeces with earlier results in some cases. The test is specific for liver fluke and cross reactions with rumen fluke do not occur. Positive results indicate active infection with late immature and/or adult fluke. Following fluke death coproantigen results become negative within one to two weeks.
Negative coproantigen results two weeks after dosing with triclabendazole indicate successful treatment. (Infection should be confirmed pre treatment)
Positive coproantigen results two weeks after dosing with triclabendazole indicate treatment failure. Where other reasons for inefficacy can be ruled out, (e.g. underdosing), then triclabendazole resistance is likely.
Occasional false positive results may occur due to coproantigen release from dead, disintegrating flukes. It is recommended that a minimum of ten animals are sampled when a coproantigen reduction test is being carried out. Individually identified samples should be collected from the same animals on the day of treatment and two weeks later. Samples for this test will NOT be pooled. If only adult fluke are likely to be present this test can also be used following treatment with other flukicides.
---
Price:

£23.65

Species:

Cattle, Sheep, Goats

Disease/presentation:

Parasitism

Test type:

Serology

Sample type(s):

Faeces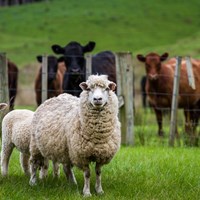 Further Information
UKAS Accreditation Status: Not accredited
Turnaround Time: 4 working days
SRUC VS Product Code(s): 1050115
Explore the broad range of laboratory tests we offer to support disease monitoring and diagnosis:
Find out more about our services