Leptospira hardjo antibody (serum)
This test is cheaper for members of the Premium Cattle Health Scheme. For more information on the benefits of PCHS membership, please follow this link: Premium Cattle Health Scheme | SRUC
Interpretation of L. Hardjo serology (ELISA) results
>45% - Positive
20-45% - Inconclusive
<20% - Negative
Results are measured by Percent Positivity.
Seroconversion occurs after approximately 4 weeks and titres may persist for months to years. Diagnosis of the status of infection at the herd level requires testing of a statistical proportion of the herd. Where only inconclusive results are obtained consideration should be given to increasing the number of animals in the group or herd that are tested, or to collect second samples from the inconclusive animals after 4 weeks to examine for seroconversion.
---
Price:

£6.70

Species:

Cattle

Disease/presentation:

Reproductive failure

Test type:

Serology

Sample type(s):

Blood - clotted (red top)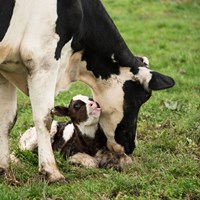 Further Information
UKAS Accreditation Status: Accredited
Turnaround Time: 5 working days
SRUC VS Product Code(s): 1072650
Explore the broad range of laboratory tests we offer to support disease monitoring and diagnosis:
Find out more about our services