Copper
Pricing: One animal = £12.10; 2+ animals = £9.55 per animal

Interpretation of blood copper results
Supplementation on a group basis can be justified where the mean of a representative number of animals from the group (at least six and at least 10 from groups >60) falls beneath the 'marginal status' band of 3.0 to 8.0 umol/l (serum copper). Where the mean falls within the 'marginal status' band there may or may not be a response to supplementation. On an individual animal basis values beneath the 'marginal status' band are suggestive of production limiting dysfunction.
These points are valid for animals >1 week of age fed diets containing less than 8mg/kg DM molybdenum(sheep, goat & deer) or 15mg/kg molybdenum (cattle). Note that stimulation of the immune system (vaccination or infection) can falsely elevate copper results due to elevation in acute phase proteins.
---
Price:

£12.10

Species:

Cattle, Sheep, Goats, Pigs

Disease/presentation:

Metabolic disease

Test type:

Biochemistry

Sample type(s):

Blood - clotted (red top), Blood - heparin (green top)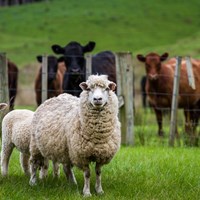 Further Information
UKAS Accreditation Status: Accredited
Turnaround Time: 5 working days
SRUC VS Product Code(s): 1084045 / 1084046
Explore the broad range of laboratory tests we offer to support disease monitoring and diagnosis:
Find out more about our services