Animal welfare app scoops another award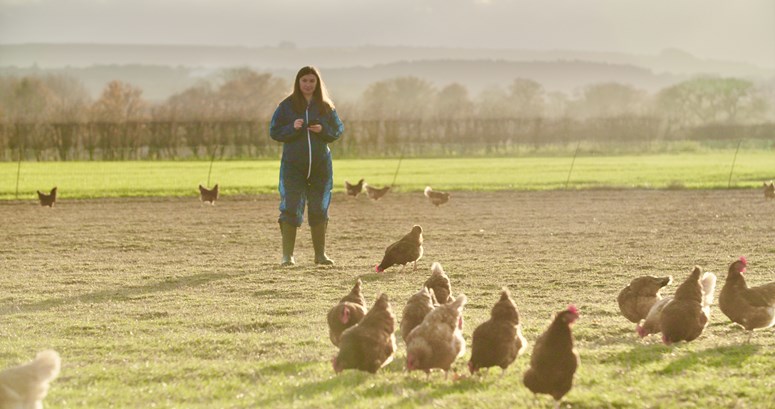 The award-winning QBA app is the first technology of its kind.
A groundbreaking animal welfare app developed by an SRUC scientist has led to another major award for Waitrose.
The supermarket won the Best Retailer Innovation prize at this year's Compassion in World Farming Awards for its pioneering work to develop the Qualitative Behavioural Assessment (QBA) App.
Developed by SRUC's Professor Françoise Wemelsfelder, the app is the first tech of its kind, specifically created for the purpose of measuring the emotional wellbeing of farmed animals and fish.
By assessing the expressive body language of 'how' animals behave (for example enthusiastic / active or flat / stressed), the QBA App is designed to continually improve their quality of life and has been rolled out across the Waitrose supply chain.
Once fully tested by Waitrose, the App - which also recently won a prestigious BBC Food & Farming Award for its innovative design - will be made accessible to other companies for the future benefit of all animals.
Professor Wemelsfelder said: "This award is a fantastic recognition of Waitrose's pioneering work in making farm animals' emotional wellbeing a key aspect of managing animal welfare standards. It has been enjoyable, interesting and productive to collaborate with their supply chains in developing and testing the app, and see their high animal welfare standards at work.
"I would also like to thank the teams at SRUC and BioSS as well as the app developers, Medayo, who have made this wonderful app possible. We are also grateful for the many years of Scottish Government funding supporting the QBA research that led to this app."
Jemima Jewell, Agriculture & Responsible Sourcing Lead at Waitrose, which also won the Best Retailer Award, said: "We are delighted to have once again received these awards, particularly to have held onto our status as a leading supermarket in animal welfare since 2004 and winner of the Best Retailer Award four consecutive times in a row.
"It takes enormous passion, commitment and hard work to achieve the high standards we've maintained for the past 30 years. This is unquestionably a direct result of the longstanding and close relationships we've built with our farmers over multiple decades and without their loyalty and dedication, these accolades would simply not be possible."
Dr Tracey Jones, Global Director of Food Business at Compassion: "Waitrose has worked extremely hard to retain their market leading position on animal welfare and we are delighted to recognise them with both Best Retailer and Best Retailer Innovation Award this year.
"Their 'Life Worth Living' project which includes Qualitative Behavioural Assessment demonstrates a genuine desire by Waitrose to better understand the mental state of animals in their supply chain. Their user-friendly QBA App, which is being rolled out and used across their entire supply chain, will enable Waitrose to continue to improve their systems so that the animals can lead the best lives they can, and its development is to be commended."
The Best Retailer Innovation Award is presented to the retailer that provides the best example of a successful project or innovation that has delivered measurable benefits to the lives of farm animals, as part of their Supermarket Survey submission.
Winners' submissions are assessed by a panel of judges and are each awarded points for specific parameters which include the severity of the welfare issue addressed, the potential scale of the impact of the innovation, as well as the level of involvement from the retailer.
Posted by SRUC on 15/06/2022