Vitamin B12
Interpretation of serum vitamin B12 results in sheep and cattle
In sheep, cobalt supplementation on a group basis can be justified where the mean of a representative number of animals from the group (at least six and at least 10 from groups >60) falls beneath the 'marginal status' bands quoted below. Where the mean falls within the 'marginal status' band there may or may not be a response to supplementation. On an individual animal basis values beneath the 'marginal status' bands are suggestive of production-limiting dysfunction.
Sheep marginal status bands:
Suckling: 230 to 350 pmol/l vitamin B12
Weaned: 336 to 500 pmol/l vitamin B12
In cattle there is no reliable blood parameter to assess the cobalt status of cattle and vitamin B12 is no worse or better than the currently available alternatives. Due to the variable binding of vitamin B12 in bovine blood, gross under-estimation and variation can occur with all currently available assays and results must be interpreted with caution. Analysis of liver tissue (vitamin B12 - no binding problems in liver) or the diet (cobalt) or assaying blood samples from sheep (vitamin B12) on the same diet will more reliably assess cobalt status than blood sampling the cattle. In addition, the response to any cobalt supplementation should be used as a diagnostic criterion.
---
Price:

£16.80

Species:

Cattle, Sheep, Goats, Pigs

Disease/presentation:

Metabolic disease

Test type:

Biochemistry

Sample type(s):

Blood - clotted (red top), Blood - heparin (green top)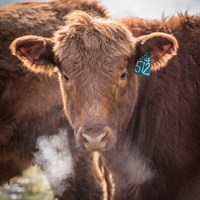 Further Information
UKAS Accreditation Status: Accredited
Turnaround Time: 4 working days
SRUC VS Product Code(s): 1084730
Explore the broad range of laboratory tests we offer to support disease monitoring and diagnosis:
Find out more about our services