SRUC launches Sustainability Start-up School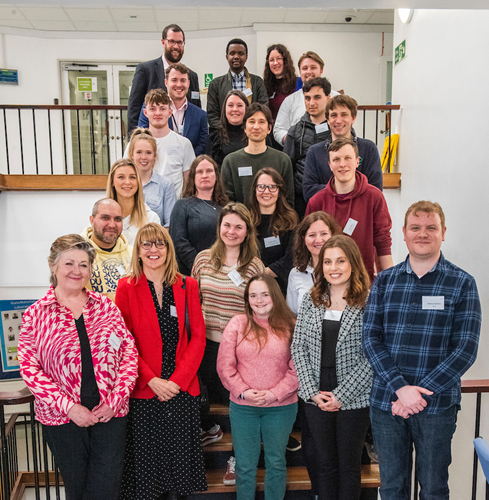 Enterprising students from across SRUC joined the Sustainability Start-up School launch
A new Sustainability Start-up School has been launched by Scotland's Rural College's Enterprise Academy for the Rural and Natural Economy.
Students from a range of courses, including Horticulture, Rural Business Management, Agriculture and Wildlife & Conservation, from SRUC's campuses across the country attended the launch on 19 April.
During the day, students were asked to think about the country's sustainability challenges and how entrepreneurship is vital to help develop the much-needed innovative solutions for the environment, society and economy.
They were given the opportunity to develop their skills, work on their business ideas and learn more about the range of services provided by SRUC's Enterprise Academy and national business support organisations such as Business Gateway and Firstport.
SRUC partner Morton Fraser delivered an introduction to legal matters before award winning entrepreneurs Tommy Dale, of composting company Forth Resource Management, Lauren Leisk, founder of health food business Fodilicious, and Jackie Brierton MBE, CEO of business support company GrowBiz, shared their stories.
Dr Carol Langston, Director of the Enterprise Academy, said: "At SRUC we are passionate about supporting enterprise for sustainability. The Sustainability Start-up School is designed to help students learn more about themselves, encourage creative ways of thinking, sustainability, the entrepreneurial process and making a positive difference.
"We look forward to continuing to work with them through the programme."
Lauren Leisk said: "I was delighted to be asked to take part in this new programme as it meets an urgent need for aspiring entrepreneurs to learn more about sustainability and how to turn their business ideas into reality.
"It was fantastic to meet so many motivated and informed students from across Scotland. We need more of these new ideas and innovative solutions to help solve our tough economic, social and environmental problems. I wish them every success on their entrepreneurial journey."
Liam Thorpe, SRUCSA Co-President for Central Scotland, said: "The highlight of the day was hearing from entrepreneurs who are successfully practicing in their respective fields. It gave a perspective of experience that cannot be googled or researched and frontloaded the learning process for setting off on a start-up journey.
"Overall, it was a brilliant day of exciting content and discussions that will springboard the cohort into the follow-up online workshops."
Following the launch, the Sustainability Start-Up School will run a series of workshops and individual support sessions to help students further develop their ideas and enhance their personal and professional development.
For further information visit the Enterprise Academy for the Rural & Natural Economy page.
Posted by SRUC on 20/04/2023