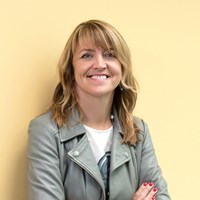 Hi I'm
Dr Carol Langston
Position: Director of the Enterprise Academy for the Rural and Natural Economy
Location: Edinburgh Campus
Expertise:

Business Management and Finance
Natural Economy
I am Director of SRUC's Enterprise Academy for the Rural and Natural Economy and, working closely with my academic, research and support colleagues, am leading the institution-wide development of enterprise education and student enterprise support.
I am inspired by the creativity and resilience shown by rural businesses. Enterprise helps our rural communities to connect and thrive and I always look for opportunities to highlight their positive contributions to our economy, society and environment, particularly those of micro and small businesses.
I am constantly learning more about enterprise and entrepreneurship through study, research and practice. I have completed the MIT Entrepreneurship Development Programme and am a Fellow of the International Entrepreneurship Educators Programme. I am a student, practitioner and researcher of effective enterprise education and worked with partners to establish the highly regarded Scottish Entrepreneurship Educators Programme at the University of the Highlands and Islands (UHI). To achieve my PhD, I researched the experiences and impacts of introducing entrepreneurship into UK Higher Education institutions.
My vision for SRUC's Enterprise Academy is to nurture many more innovative and enterprising individuals and businesses, willing and able to create sustainable value and make a difference to support a thriving natural economy. My team and I plan to do this through an increasingly wide range of education and professional development programmes, as well as one-to-one support.
Areas of expertise and interests
Business Management and Finance
Natural Economy
I'm currently working on
creating and delivering professional development programmes to equip educators with the understanding and tools to build enterprise skills in others
creating an 'enterprise for all' students approach across all disciplines and programme levels
researching, designing and testing pedagogical approaches to embed the competencies of enterprise and sustainability
researching business models for sustainable innovation linking to wider community development
My professional highlights
EEUK Fellowship Assessor, Enterprise Educators UK (2022–2025)
Subject Lead for Sustainability and Enterprise for SRUC's Strategic Curriculum Review (2021–2025)
Programme Director, Scottish Entrepreneurship and Enterprise Educators' Programme (SEE), UHI (2012–2017)
Faculty, China Entrepreneurship Educators Programme, NCEE (Yangzhou, 2017)
Enterprising Practitioner Programme for Scotland's Enterprising Schools (2016)
Project and Programme Leader, CATALYST SME training programme funded by UK Commission for Employment and Skills Futures (2015–2016)
Director, Highlands and Islands Social Enterprise Zone (2014–2016)
Director, Inverness Chamber of Commerce (2012–2015)
Additional links
Find out more about our services