Food Biodiversity: Reflecting on our past to reshape our future. Lessons from the world.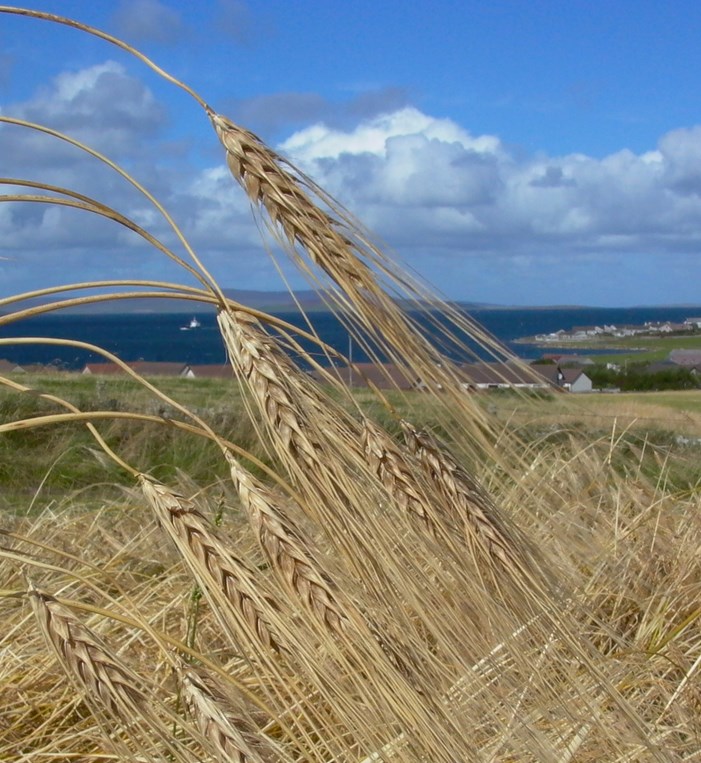 Bere Barley is grown in Orkney [photo credit: John Wishart. Picture taken at The Barony Mill in Orkney]
A diverse food system benefits businesses, communities, and nature, and food tourism can build on the interest in indigenous and traditional ingredients.
Supporting local businesses and combining traditional knowledge with innovation can increase food biodiversity and resilience.
Local businesses in Scotland are leveraging ancient crops, cuisines, and traditional knowledge to create new seasonal experiences and generate alternative sources of income. They are using heritage ingredients with a modern twist, building on the provenance of food and farming through research and innovation.
Today, about seventy per cent of the world's food comes from only twelve plants and five animal species, while there are over 15,000 varieties of edible plants for human consumption. In fact, just thirty plants provide the world with 95% of its calories. These include rice, wheat, and corn, which have replaced traditional crops in many places. The lack of food source diversity poses a risk to society, health, and nature as climate change, social and economic changes, and natural disasters impact us globally. Farmers and ecosystems are also at risk, threatening the crucial food biodiversity and security we rely on.
Food is not just about providing energy or profit; it is also about enjoyment, community, and tradition, and is an essential social activity. Our current diet –so often lacks diversity in ingredients, flavours, techniques, and meaning.
Changing diets can create new opportunities for farmers and food producers. Farmers can diversify their income by adopting alternative practices to manage their land in a way that promotes food biodiversity with a positive effect on nature and local communities. Prioritising food diversity, resilience, sovereignty, and security can help to create a more sustainable agricultural system. Food also brings people together culturally, for example the slow food movement fosters the preservation of food traditions and culture.
It is important to preserve traditional crops and food biodiversity to promote species conservation, improve production, and combat climate change, and there are a number of academic and private sector initiatives merging traditional practices with modern innovations to promote the use of traditional crops in current activities. Read more about initiatives such as NariñoBioin Colombia, Andean researchers helping farmers in Peru and the Mater Iniciativa organisation, and summer farms (fäbod) in Sweden in our full article. These initiatives demonstrate the potential of preserving cultural heritage and biodiversity while providing new income streams to communities.
Scotland can offer unique and engaging food experiences by revitalising traditional ingredients, promoting diversity, and preserving heritage recipes. Foraging for unique heritage ingredients is becoming increasingly popular, fostering a sense of community and maintaining cultural traditions. NatureScot's Scotland's Natural Larder initiative and Foraging Fortnight celebrate natural and sustainably foraged foods, and chefs and food & drink producers are increasingly utilising seasonal and heritage-foraged ingredients.
Organisations like the Scottish Seed Hub and Seed Sovereignty are preserving heritage Scottish vegetable cultivars to promote diverse and healthy local diets and create new opportunities for the food industry.
Wendy Barrie of Slow Food Ark leads initiatives like the Scottish Food Guide and heritage food events to raise awareness of Scotland's food heritage. Wendy worked with North Ronaldsay Sheep to gain Slow Food Presidium status - Scotland's first.  Orkney also boasts another well-known heritage product – Bere, an ancient type of barley. Bere is low in gluten and saturated fats, high in soluble fibre and is a source of minerals and vitamins. Read our full article to hear more about Bere and Scottish industry initiatives.
If you want to continue the conversation, then SAC Consulting's Food & Enterprise team would love to hear from you.  We are a diverse and talented team, bringing a variety of skills to the table. With a wide network of contacts across the agri-food sector, we work closely with research colleagues and industry alike and will continue to help Scotland's food, drink and rural businesses develop and grow.
By Luisa Riascos Caipe and Ceri Ritchie,
foodanddrink@sruc.ac.uk
For further reading, you can also access our full report on this topic.
Posted by Ceri Ritchie and Luisa Riascos on 26/09/2023