Scotland Praised by the OECD in a new report on rural innovation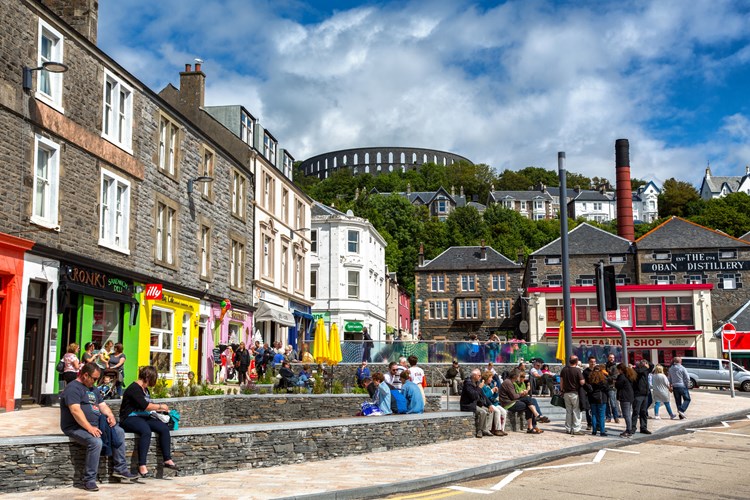 The colourful waterfront shops and cages of Oban, Scotland
A new report by The Organisation for Economic Co-operation and Development (OECD) praising the innovation of rural Scotland was launched this week.
'Enhancing Rural Innovation in Scotland' is the first in a series of six reports from the intergovernmental economic organisation. The research is looking at how the adoption of policies and the availability of programmes for supporting innovation and entrepreneurship in rural areas vary across different countries.
The report has interesting findings and the OECD was complimentary of Scotland – stating it was the only OECD country that has experienced an increase in rural population and innovation in recent years (post Covid-19). It classes Scotland as a 'strong rural innovator', stating that rural areas have a third of all of Scottish businesses (36% compared to an OECD average of 33%).
Rural firms in Scotland, it says, contribute to innovation and growth, including in accessible and remote rural areas (despite an overall shrinkage of the Scottish economy over the same period).
A key finding was that rural firms are very likely to adopt new innovations – especially young and small businesses. The more important indicator to consider is the businesses willingness to adapt to changes rather than merely their geographic location.
As part of its finding, the OECD looked at demographic changes across Scotland; stating that Scotland is home to a lower than average number of young people in similar OECD regions, and an increasingly aging community.
The OECD recommend expanding rural Scotland's entrepreneurial ecosystems with a focus on skills development, as well as improving delivery of innovation programmes in those areas. It highlighted enterprise agencies such as Skills Development Scotland to be key enablers of rural innovation by delivering access to finance and skills as well as helping to create 'framework conditions'.
The Scottish Government's new National Innovation Strategy - which the OECD contributed towards - was highlighted as good practice, especially the strategies around exports and digital markets. Social innovation in the public sector and third sectors were also recognised as important in Scotland's recent rural growth. The researchers do, however, suggest that a stronger 'rural lens' is required and called upon enterprise agencies to help coordinate this.
Digital connectivity across OECD countries is still poor in rural areas, and in fact is decreasing over time, despite many policies and strategies to help resolve this issue. Again a 'rural lens' was called on to help to overcome this.
A panel discussion followed the launch of the report and heard from Anna Densham, Scottish Government's Deputy Director of Land Reform (Rural and Islands Policy), who highlighted how policy documents such as the National Strategy for Economic Transformation, including the transition to a well-being economy, and upcoming Rural Delivery Plan are playing a part in this process.
Dennis Alvord, Chief Operating Officer at the US Department of Commerce's Economic Development Administration (EDA), reflected on the findings and applied them to the United States of America, stating they were taking a 'whole government' approach to rural innovation. He highlighted a 'tech hub' policy which covers all regions across the USA outside of traditional innovation hotspots.
Professor Jeremy Phillipson, Director of NICRE and Professor of Rural Development at the Centre for Rural Economy at Newcastle University, said innovation systems and policy frameworks can often underserve rural communities. He pointed towards social innovation as a key driver of Scottish rural innovation and said it should not be considered secondary to technological advancements. He also flagged the work that SRUC are doing in this area.
Finally, the panel heard from Peter Wostner, a senior advisor for the Institute for Macroeconomic Analysis and Development in Ljubljana, Slovenia, who explained the ways in which rural innovation is different from similar endeavours in an urban setting. He showed how there was an emphasis on 'slow innovation' and social innovation. Yet he also wanted rural areas to become sources of inspiration – through the social fabric of rural places to ensure they are not left behind.
Overall it was fascinating to hear the opinions of a wide range of experts involved in the report and encouraging to see Scotland being used as a prime example of how OECD countries can improve the innovativeness of their rural areas.
Dr Ian Merrell attended the launch of the OECD Report 'Enhancing Rural Innovation in Scotland' as part of his work with NISRIE, a Scottish Government funded research project which aims to expand the knowledge base on rural and island economies.
Posted by Ian Merrell on 29/09/2023