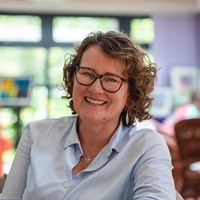 Hi I'm
Ceri Ritchie
Position: Head of Food & Enterprise
Location: North East Scotland
Expertise:

Food and Drink
Business Management and Finance
As Head of Food & Enterprise at SAC Consulting I lead a talented, multi-disciplinary team and undertake project work for a variety of clients across Scotland. In my career I have held a number of senior positions within SRUC and at the Cooperative Wholesale Society (CWS). Since joining SAC Consulting I have worked on a number of projects, ranging from regional economic strategies and major Scotland-wide projects to one-to-one company advice. I am passionate about supporting enterprise creation and entrepreneurial ambition. 
With 38 years' management and marketing experience in the UK's food & drink supply chain I have more recently focussed on local food & drink, food tourism, rural enterprise and delivering THRIVE, a weekend school for the next generation of entrepreneurs in Scotland's food & drink and rural sector. 
With an understanding of what drives consumer behaviour and key industry challenges, such as climate change and sustainability, I provide strategic advice to a range of businesses and organisations. As an established and well-respected project manager I also manage the Scottish Government's £4M annual Veterinary Services Programme and managed Connect Local, the Scottish Government's Local Food & Drink Marketing Advisory Service (2016 to 2020). While working in the UK grocery sector for the CWS I was responsible for procuring key grocery ranges.
In my time at SRUC I have held a number of industry-wide roles, including representing SRUC on the Scotland Food and Drink Executive Group from 2007 to 2017.  
Areas of expertise and interests
Food and Drink
Business Management and Finance
I'm currently working on
supporting development, growth and strategic marketing in Scotland's micro and SME local food and drink, and food tourism businesses
supporting and advising Scotland's regional food groups
developing alternative food and non-food products farming enterprises for biodiversity and sustainability
delivering THRIVE – a weekend school for the next generation of entrepreneurs in Scotland's food and drink sector
supporting diversification in Scotland's farming and rural economy
facilitating the AgriScot Diversified Farm of the Year Award
project managing the Scottish Government's Veterinary Services Programme delivered by SRUC veterinary colleagues
My professional highlights
one of the three finalists for Inspirational Woman of the Year 2020 as part of the Business Women Scotland Awards
awarded the SRUC 'R C Stewart Award' for extension and advisory work for industry
working with Scotland's fantastic and inspiring food and drink businesses every day
acting as a judge for a number of industry-wide business awards
contributing author to the book: 'Breaking with Tradition – Building Partnerships & Alliances in the European Food Industry', a business publication produced in association with Wye College, University of London & the Institute of Grocery Distribution
Additional links
Find out more about our consulting services