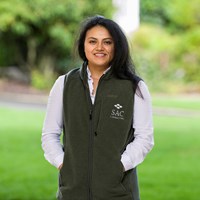 Hi I'm
Luisa Riascos Caipe
Position: Food & Enterprise Consultant
Location: Edinburgh Campus
Expertise:

Business Management and Finance
Climate, Environment and Wildlife
Food and Drink
Natural Economy
I am a Food and Enterprise Consultant, based at King's Building. I am currently involved in assisting the development of LCA models for food manufacturers, research on food sustainability, food systems, food security and rural resilience.
 I have worked on circular economy applications for fruit and vegetable packaging, trends and sustainability in the UK fresh produce sector, and the effects of global shocks on food availability, local sourcing, and self-sufficiency. 
Before joining SAC Consulting, I worked as a research assistant for the Economics School at Universidad Icesi in Development Economics, particularly on gender and ethnic gaps in education, and entrepreneurship in Latin America from data collection, and processing to quantitative and econometric analysis. I also supported activities of the Economics and Finance Research Centre (CIENFI) and the Centre of Excellence and Appropriation in Big Data and Data Analytics (Alianza CAOBA) where I assisted in projects using Big Data and Data Analytics for public and private entities.
I am deeply passionate about the interconnection of food systems and societies particularly interested in restructuring and transforming food systems to address food inequalities.
My hobbies include watching and playing football, going on food tours, discovering new places, going on walks, and live music and languages.
Areas of expertise and interests
Business Management and Finance
Climate, Environment and Wildlife
Food and Drink
Natural Economy
Find out more about our consulting services