Potato Growing Guide
Mashed, boiled, baked or chipped – however you eat them, give them a grow this year.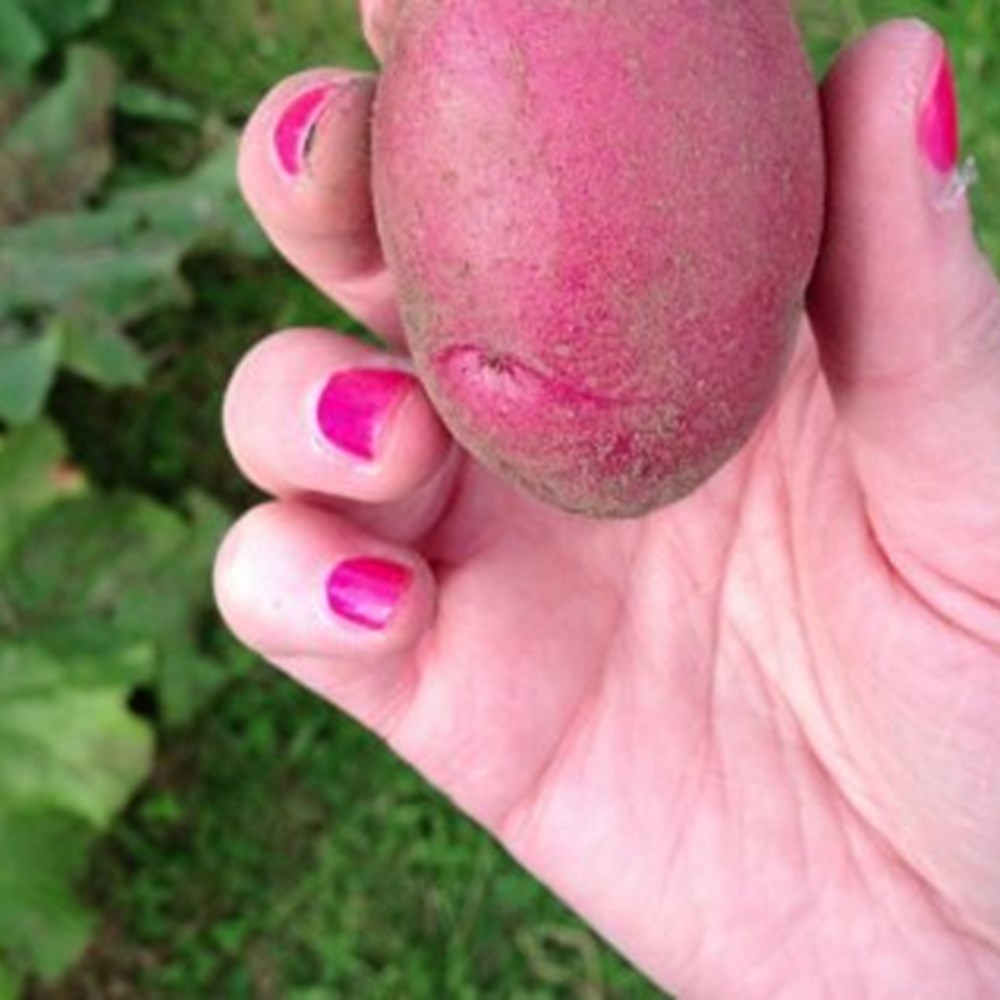 They're an important crop for Scotland and quite easy for new gardeners. That's why Dandelion chose these tasty tubers for the school growing initiative.  250,000 seed potatoes have been sent to 464 primary and secondary schools across the country. Pupils can grow them at school or at home and take part in the Big Tattie Experiment Scotland's biggest ever community-led growing experiment – more news on this to follow.
Fancy having a grow too?
Potatoes are usually classed according to how long they take to grow.
'Early' potatoes 10 – 12 weeks. They are quick to grow but yield the least. They can be planted out from mid-April to June
'Second earlies' 14 – 16 weeks. Can be planted from mid-April to May.
'Main crop' potatoes 15 – 22 weeks. Theses take longer but grow large and give the maximum yield. Can be planted from mid-April to May.
After that, you can choose your potatoes based on texture (waxy, smooth or floury); on suitability for your soil type or climate; as well as for flavour and colour. This variation makes potatoes a versatile choice for home-cooking. Whatever you choose, you can expect a 1kg of seed potatoes to yield around 10-20kg of fresh potatoes. If you have space to grow a selection, then you can stagger your planting to provide harvests from July through to October.
They key is to delay planting outside until the risk of heavy frosts has passed, and the ground has warmed a little. So, from mid-April for the warmer, west coast; the second week of May for most of the country; and early June for colder areas inland, on higher ground.
Chitting
Chitting your seed potatoes lets them sprout a little bit from their 'eyes'. It's not totally necessary but can give them a head start while the weather and soil warm up.
Place them, eyes uppermost, in a bright but cool place out of direct sunlight. Old egg cartons are ideal for this. When sprouts develop to 2cm long, the potatoes are ready to plant out. It's ok if they end up a little longer too.
Planting Out
Treat your seed potatoes carefully and try not to damage or bash the delicate sprouts.


Have a quick check and remove any that have started to rot but don't worry about a few little spots or blemishes.


Plant them in a sunny, open spot as soon as possible after you get them, and after frosts have passed.


You can grow them in a container (tho' the yield will be less) or directly in the ground, ideally where potatoes haven't grown in the last year. This will help to limit soil-borne pests and disease.
Plant directly in the ground
Dig over your soil to break it up. Ideally this is done the previous autumn but if you're new to gardening, now's as good a time as any. Fork in some compost afterwards to improve the soil structure and add nutrition. Working your soil should be done on a dry day.


Dig a trench to a spade's depth, then lay in the seed potatoes with the eyes or sprouts upwards - 30cm apart for 'earlies' and 38cm apart for 'second earlies' and 'main crop' which grow larger and need more space. If planting multiple rows, these should be 60cm apart for 'earlies' and 75cm apart for 'main crop'.


Cover with 3cm of soil and wait for the shoots to grow.


Once the shoots are 10-20 cm high, rake the soil up to bury them again.


Let the shoots emerge, then repeat this earthing up process two or three times. The plants should be well covered; if too near the surface and sunlight, the potatoes will turn green and spoil.


Your potatoes should be quite self-sufficient now they are in the ground. But if dry weather is prolonged, water well every few days – potatoes are a thirsty crop. Feed with seaweed extract or a general-purpose fertiliser at the relevant concentration.


Harvest 'earlies' when the open flowers start to fall, usually July – August. Otherwise wait until the stems have yellowed in the Autumn, then cut this away to near ground level. You can harvest straight away or leave the crop in the ground for another 10-14 days. This toughens up the skins so they can be stored for longer.


Ensure you dig up all your crop.
Grow in a container
Find or make a container of around 20 – 30L e.g. a large, deep pot or tall bucket. You can buy potato growing bags from your local garden centre or a good option is to simply recycle an empty 40-50L compost bag.


Whatever you choose, ensure it can drain freely. Make holes at the bottom if necessary. You don't want soggy soil nor your container sitting in a puddle, otherwise your potatoes might rot.


Use growing medium to cover the bottom of your container to a depth of 15 cm and then bury your seed potatoes just below this. Space them out as much as you can – perhaps just two or three in a 20L bucket; four in 40L and six in a 50L bag.


When the shoots appear and are 10-20cm tall, add in more growing medium to cover them. Repeat as the shoots reappear until your container is full.


Check your plants regularly. Containers can dry out quickly and potatoes do need plenty water. But if they are too wet, you might need to move your container to a drier site or raise it up slightly. Look at the leaf colour too; if it's pale and yellow, your plants may need feeding. Use a high potash fertiliser or seaweed extract.


Harvest 'earlies' once the open flowers have begun to fall, usually July – August. Otherwise, harvest when the leaves and stems have yellowed and begun to collapse. Cut this away for composting. You can either dig up your potatoes to enjoy straight away or leave in the container for another 10-14 days.
Storage
Fresh potatoes are hard to resist but if you plan on storing your crop, do leave them in the ground for up to a fortnight, as mentioned. This will let the skins develop and the potatoes will keep better.
Dig them up on a dry day and leave them for a few hours, sitting on the soil to dry.  They can then be packed in wooden boxes or paper sacks. Check every so often. Any that are rotten, should be discarded.
Did you know?
Although we eat fewer potatoes in the UK than we used to, we still consume 355grammes each week. Scotland grows high quality potatoes for the domestic market and exports around the world. They're a big cash crop: a whopping 1.4million tons are grown on 28,000 hectares of land, generating £240M for the economy.