From Belgium to Biggar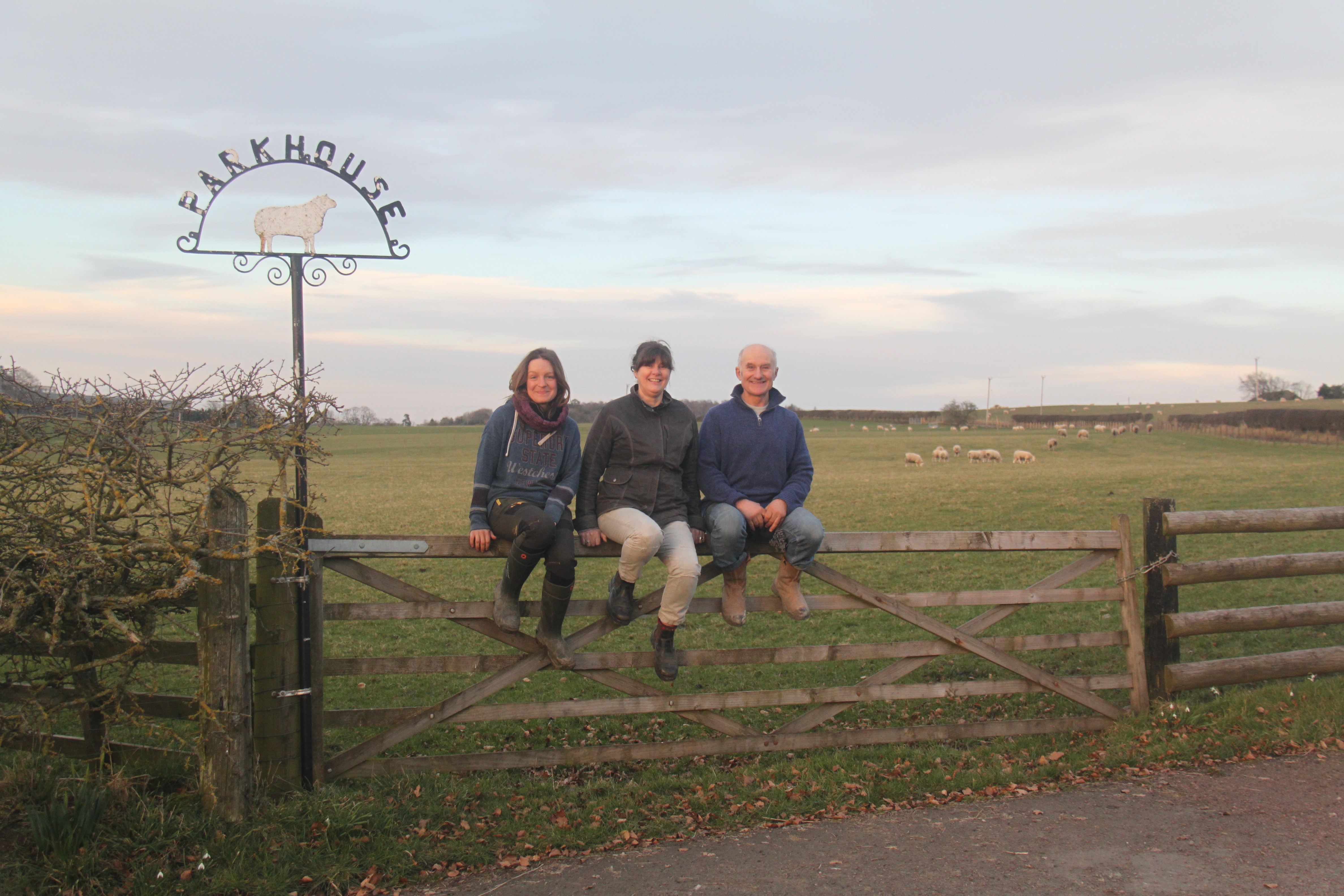 Left to right: Laura Hinnekins, Lyn and Andy Barr.
Laura came to the UK from Belgium nearly 5 years ago with just her car and a pack of dogs, having graduated in Agronomy from Liège University.
Laura comments, "I am not from a farming background whatsoever, but I have always been obsessed by animals and I was desperate to come to Scotland. During my studies I came back and forward to do some work experience in the UK. I could speak very little English and had no idea what shepherding really was. It was an exciting time in my life!"
After first being employed on a hill farm, Laura then became self-employed and built up a network of farms where she lambed, gathered and did general sheep work, but always with the hope to start her own flock. Then two years ago, she met a farm adviser through her partner Euan, who introduced her to Andy and Lyn Barr from Biggar.
Andy and Lyn were looking for a new entrant, with a view to being able to get a young person started and prove that on a small farm with a little help, it was possible to establish a flock and ultimately go onto to a larger business.
Andy said, "Lyn and I had talked for several years about our wish to give a young person the chance to get a foot hold in farming and came across Laura through a farm consultant friend.  She was exactly the kind of candidate we were looking for, being incredibly enthusiastic, hard-working and with a clear vision of her ambitions. We also knew that our Parkhouse holding alone was not large enough at 150 acres, to make a living from.  Another income was needed to supplement a flock on the farm.  Laura breeds, trains and sells working sheep dogs and also does contract shepherding so she was able to supplement her income from the farm.  We were always keen to find out the sustainable potential of the farm in producing healthy disease-free stock and knew Laura was the very person to help us achieve that."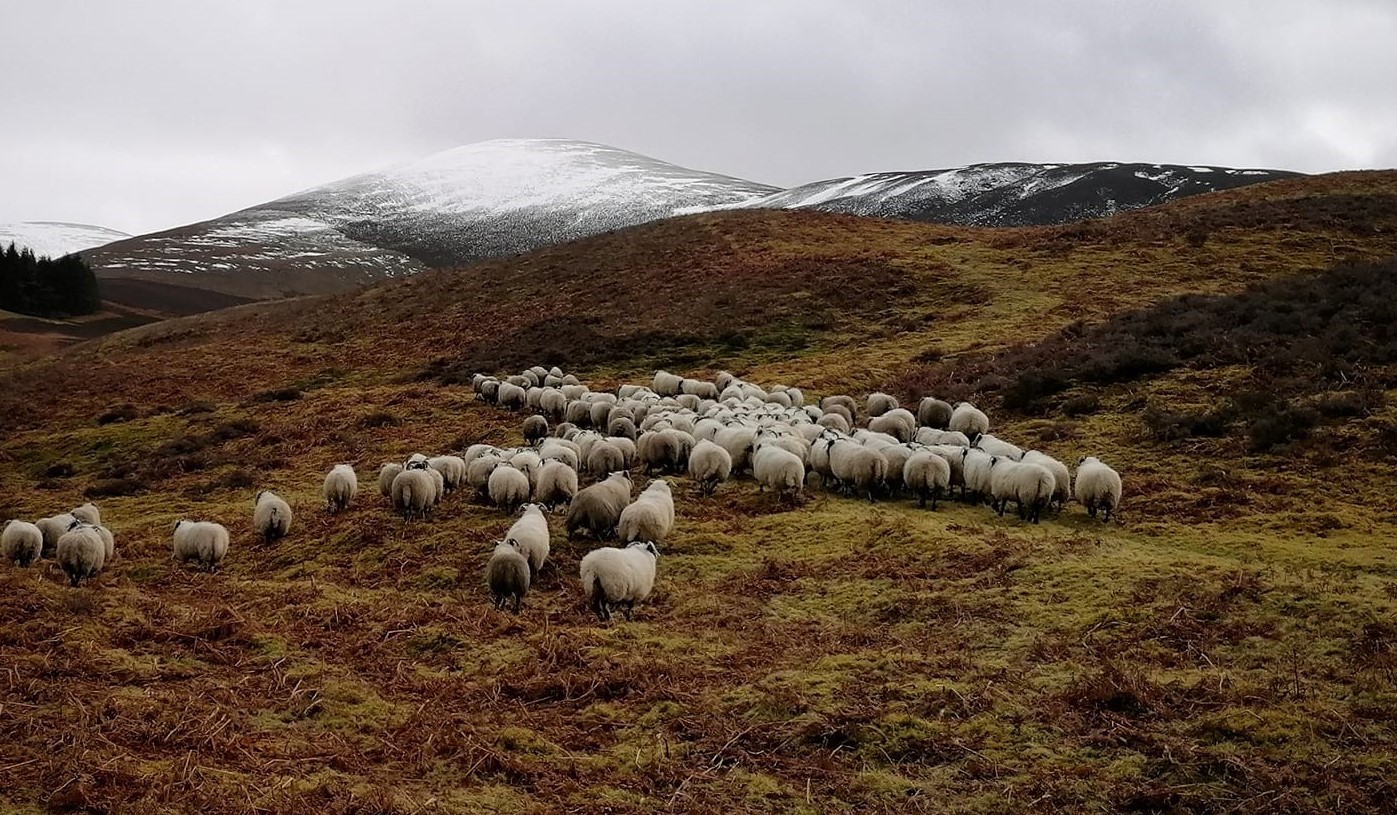 Part of Laura's flock grazing on the hills.
Laura now owns 300 North Country Cheviots in lamb to traditional Bluefaced Leicesters, 100 Cheviot Mules in lamb to Texels and 100 to the pure Cheviots.  She also intends to sell 200 MV accredited mule gimmers this year.
Laura intends to run a disease-free closed flock as much as possible.  Having heavily invested in the future health of the flock where all bought in breeding stock were tested for Maedi Visna and are now fully accredited, having passed their second qualifying test last summer.  Having been influenced to join the scheme after seeing the benefits in Andy and Lyn's pedigree Texel flock, Laura has incorporated selling accredited gimmers as part of her business model and believes that further benefits will come from having less replacement cost and disease-free stock.
Some of the Cheviots are kept pure for replacement but the majority go to the traditional Bluefaced Leicester or Texel. Laura added, "the lambs are doing fantastic at the market and as lamb boxes. They also give excellent strong Cheviot cross ewe lambs which will be sold as MV accredited gimmers for breeding."
In order to further the health of the flock Laura is also taking part in the Targeted Selective Treatment (TST) trial led by the Moredun Research Institute in partnership with other experts.  This trial targets individual rather than whole flock worming optimising treatment to combat wormer resistance.
"This new entrant opportunity is an amazing way for me to gain more experience but also to build up my numbers and to buy assets to be able to jump into the next step," Laura adds.  However, this opportunity isn't permanent and at the end of the 5 years lease, Laura will have to find another farm and more new challenges, to give room to another young entrant.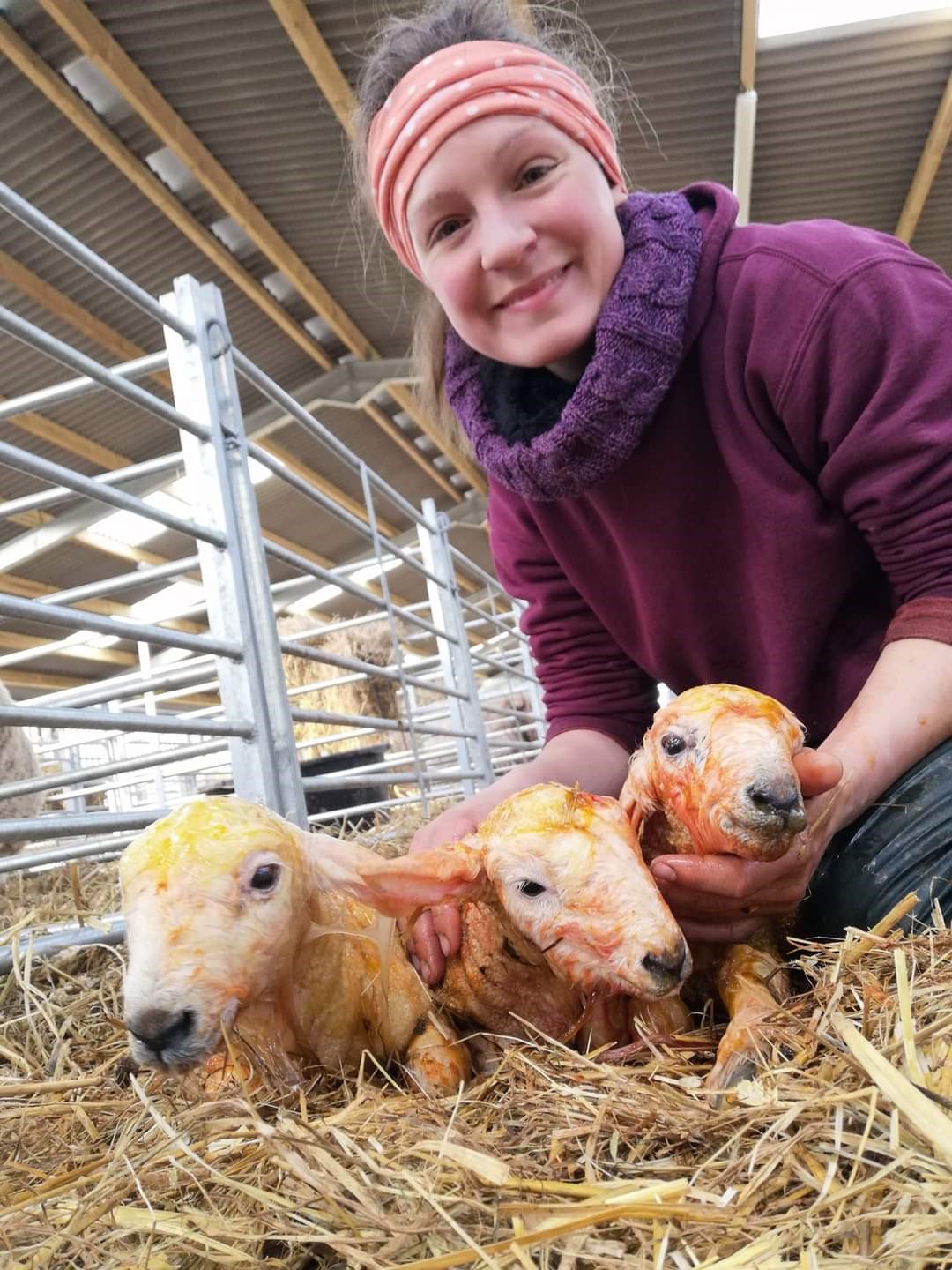 Laura welcoming newborn lambs into the flock.
Laura was recently offered a contract on a hill farm close by in the Scottish Borders.  The farm is composed with 800 Scottish Blackface run on 1600 hectares. She hopes to use the experience that she has previously learnt on many hill farms to improve the flock and looks forward to the increased responsibility.
On her sheep dog ventures Laura says, "I'm really dedicated to my dogs; they make my work so much easier. I train my own dogs and sell some at times. I also enjoy competing. The sheepdog world is amazing, you get to know people and see new places. I have had many job opportunities through it and I'm very grateful to be part of this community. "
Laura has also given sheepdog tuition in several countries including Belgium, France, Switzerland, Canada, and America.  She qualified for the Belgian team with Fudji to run at the World trial in 2014 and after moving into Scotland, made the 15th place with Meg in the Scottish team in 2018. She qualified for the Four Nations after getting the 6th place at the Scottish nursery final in 2020 with her dog Zorg.
In terms of her motivation, Laura emphasises her goal to change negative perceptions of agriculture and wanting to promote the positive aspects of farming. Laura and her partner Euan have started a new venture of selling lamb and mutton boxes direct to customers and use social media and YouTube for promotion and education (as well as channels for their sheepdog content).  They have also previously given demonstrations with sheep and sheepdogs at a local school and hope to do more of this when possible.
Lawhill Lamb (lamb and mutton boxes)
www.lawhilllamb.co.uk | YouTube | Facebook | Instagram
SheShepherds (sheepdog and shepherding)
Posted by SRUC Veterinary Services on 27/04/2021
Categories: