Zero carbon production 'moon shot' in reach for Scotland's livestock farmers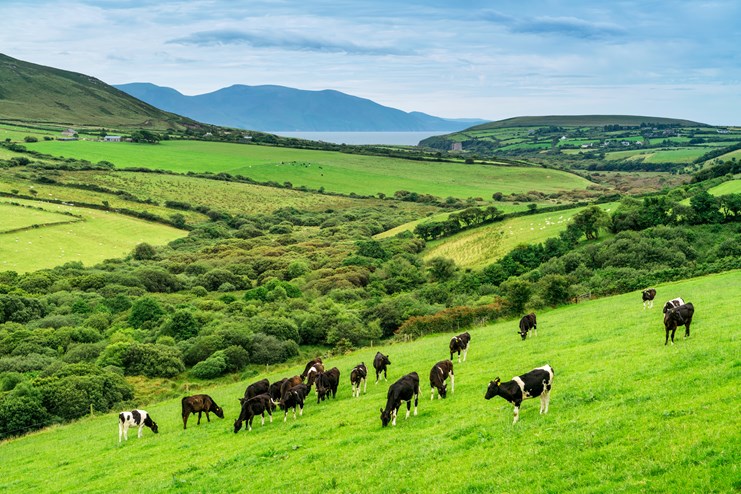 Reducing ruminants could be the key in meeting national net-zero and biodiversity targets without negatively impacting farmers' livelihoods
A recent call on social media from former Defra adviser and rewilding advocate Ben Goldsmith for sheep to be removed from national parks and other marginal landscapes across the UK has led to a stepping-up of the debate over the future of ruminant livestock in our food supply chain.
Responding in The Herald, former Conservative MEP for Scotland Struan Stevenson took Mr Goldsmith to task for being among voices that encourage a view that livestock farmers are "climate vandals" whose businesses are a barrier to the pursuit of national net-zero and biodiversity targets.
As Stevenson points out, the UK Committee on Climate Change advises us that to meet net zero targets, emissions from food production will need to fall significantly from current levels.  Yet he also notes the potential for this to impact farmers' livelihoods. He warns that a backlash against new environmental policies in the Netherlands that aim to slash greenhouse gas production by cutting back livestock numbers, could be replicated in the UK if similar approaches are adopted by policymakers.
Farmers there are furious about what they see as steps that compromise the economic sustainability of a sector that provides high quality meat and milk, has multiple benefits for human nutrition and health, and provides the world's second largest market for agricultural exports. However, Ben Goldsmith's original comments were in part focused on the additional issue of land use and the role that sheep grazing can have in rural areas that can support decarbonisation and biodiversity recovery through activities like tree planting and peatland restoration.
Sometimes it feels like we are debating at cross-purposes when essentially, we all want the same thing: food production that's environmentally sustainable for landscapes, rewarding for farmers, beneficial for consumers and supportive of national and international commitments to reduce greenhouse gas emissions. So, is it possible to please everyone in we realise those objectives?
I believe so, yes, but only through targeted innovation informed by deep collaboration between the so-called green quadruple helix of partnership in our natural economy between academia, businesses, government and communities.
Firstly, we need to redouble our efforts to reduce the climate impacts of ruminants, one of the biggest global causes of emissions. Every one of the UK's nearly 10 million dairy and beef cattle can emit hundreds of litres of methane per day. Amounts vary depending on breed, size, and age per cow, but with methane creating around 28 times the warming effect of carbon dioxide, the necessity for deep cuts to those emissions is as obvious as it is urgent.
One solution is a rapid shift toward plant-based foods and non-livestock protein, but that poses huge problems for farmers looking for a truly 'just' transition to net zero for an industry that is vital for the health and wellbeing of rural communities. Here in Scotland we can offer an alternative harnessing the existing strengths of our natural economy to nurture and grow a zero-carbon meat and dairy market that can become a by-word for sound environmental stewardship the world over.
To achieve this, we must develop and refine animal feed supplements that, used alone or in novel combinations, reduce the volumes of methane that are the by-product of the natural breaking down of carbohydrates in each animal. Global animal health and nutrition companies like Royal DSM, which is investing significantly in a new manufacturing facility in Dalry, have part of the solution. According to the company, under test conditions its Bovaer feed additive can achieve average enteric methane reduction of 30% in dairy cows, and 45% in beef cattle, with some experiments showing reductions of up to 90%.
At the same time, we can invest in selective breeding programmes to produce healthier and more efficient animals, thereby reducing the greenhouse gases produced as by-products of meat and milk production. Moreover, we can selectively breed directly for lower methane – a practice already being pioneered commercially in Canada. Scotland is already good at breeding high value cows and sheep and there's no reason why we can't be world-leaders in the business of selecting low methane ruminants for use in our food systems.
And finally, we can make better use of technology to capture those emissions that can't be reduced in other ways. SRUC is currently investing in the development of a pioneering system called GreenShed, which will use cattle waste products to power a methane capturing system and grow indoor crops. The facility will also produce low-carbon fertiliser and has the potential to remove the equivalent of 237 tonnes of carbon dioxide per farm per year.
Clearly then, we have the means to achieve low or even zero carbon meat at considerable scale and in ways that put Scotland in pole position to develop a new and exceptionally valuable market in the food supply chain. As we do so there will inevitably be trade-offs that need careful management, including higher input costs for farmers and fewer animals overall in the food supply chain.
Yet we need to be canny enough to appreciate that food produced to exacting environmental standards can be sold to consumers at a significant premium as compared with animals with lower welfare standards. New systems of sustainable farm monitoring accreditation will be needed. In practice farmers should be able to achieve the same or better returns from smaller herds, freeing up land for biodiversity or other forms of food production alongside low intensity animal husbandry.
The challenge then, is for the academic community to redouble our efforts to work with and support businesses, policymakers and communities across Scotland to seize the opportunity in a concerted manner. Together we can adopt a 'moon shot' approach to rapidly developing and refining livestock production that reaps huge environmental and economic rewards for Scotland in the years ahead.
Professor Wayne Powell
Principal & Chief Executive, SRUC
Posted by Wayne Powell on 27/04/2023