Virtual programme will boost leadership skills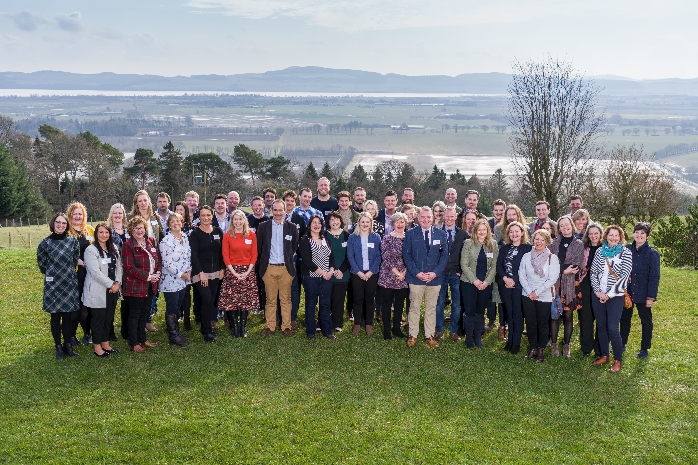 "The graduates from the 2019-20 rural leadership programme"


Rural business owners or managers looking to develop their management skills and grow their companies are invited to join the Rural Leadership Programme.
The Scottish Enterprise-led programme, facilitated by SAC Consulting – part of Scotland's Rural College (SRUC), has been running for 14 years and has more than 630 graduates.
This year, due to the coronavirus pandemic, the programme is being offered in a virtual format with a focus on self-development.
It will run from October 2020 to March 2021, and will involve more than 40 hours of workshops, team tasks, group discussions and one-to-one coaching sessions, made up of short one to two-hour sessions.
SAC Consulting is looking to recruit 40 applicants from across Scotland who have ambitions for the future of their business and recognise the need to change their business model, learn new skills, embrace digital technologies and a new way of working, and respond to their customer's needs.
Iain Riddell, Business Manager at SAC Consulting, said: "We're living in unprecedented times when the business environment is affected, and perhaps changed for ever, by the twin uncertainties of Covid-19 and Brexit.
"However, with disruption comes opportunities for our rural business leaders. Businesses will need strong leadership if they're to get through a period of intense change and take advantage of opportunities that will arise in future.
"This year, the virtual format offers an added bonus for participants as it will mean less time away from your business."
The cost of the programme is £400 (plus VAT) and applications are invited until 31 August.
In the meantime, potential applicants can join an information webinar on Wednesday 12 August at 1.30pm to find out more about the programme.
To register your interest in the programme or to receive webinar joining instructions, please contact Aileen Carr at: Aileen.Carr@sac.co.uk.
Posted by SRUC on 29/07/2020