Taking an alternative approach to crops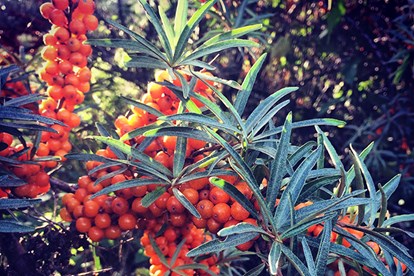 "Seabuckthorn is among the alternative crops being used in new food products."


Experts are investigating ways to create new foods and related products from alternative crops to maximise the use of locally produced food and drink.
Specialists from Scotland's Rural College (SRUC) and the University of Aberdeen Rowett Institute are also looking at how to make the most of the natural environment to tackle global challenges.
This includes focusing on a range of crops, from those with a high nutrient or protein content and stable yields, to those which have a positive impact on soils and multiple uses.
Products under development include a seabuckthorn kefir and ginger beer and a nettle health drink, both of which utilise unwanted or invasive materials or crops.
The coronavirus pandemic has highlighted the insecurities in some supply chains and food systems and the researchers are interested in the potential of supporting plant-based diets through a range of legume alternatives.
They are also looking at the possibility of using natural species and crops grown on marginal land – such as gorse, grass and clover – to extract protein, fibre and sugars for use in innovative food products, textiles and packaging, as well as the use of by-products from plants to create hydrogels that can be used in biomass for the controlled release of nutrients into the soil.
In addition, they are investigating research into plant extracts and co-products to develop foods with a positive impact on human health or which can prevent or manage chronic disorders such as type 2 diabetes.
Christine Watson, Professor of Agricultural Systems at SRUC, said: "If the Covid-19 outbreak has taught us anything, it is that we should value our natural environment and maximise the use of locally produced food and drink.
"The potential journey of crop production from 2010 to 2050 feeds into our discussion of the many innovative opportunities available.
"The importance of considering crop processability, profitability for farmers and also affordability for producers is a key area of work with valuable lessons for populations across the world."
Ceri Ritchie, Food & Drink Sector Lead at SAC Consulting – part of SRUC, said: "The challenge now is to work together to identify and evaluate markets for these products and to continue to innovate and add value to Scotland's food, drink and agriculture sector."
Professor Wendy Russell, from The Rowett Institute, said: "With only 25 harvests left to deliver fit-for-purpose climate neutral agriculture, an integrated approach across the food supply chain will be essential. As scientists from the Scottish Environment, Food and Agriculture Research Institutes (SEFARI), we are rising to this challenge, delivering an interdisciplinary programme of work to support our green recovery."
Posted by SRUC on 23/06/2020