Vet nurse recognised for achievements following cancer diagnosis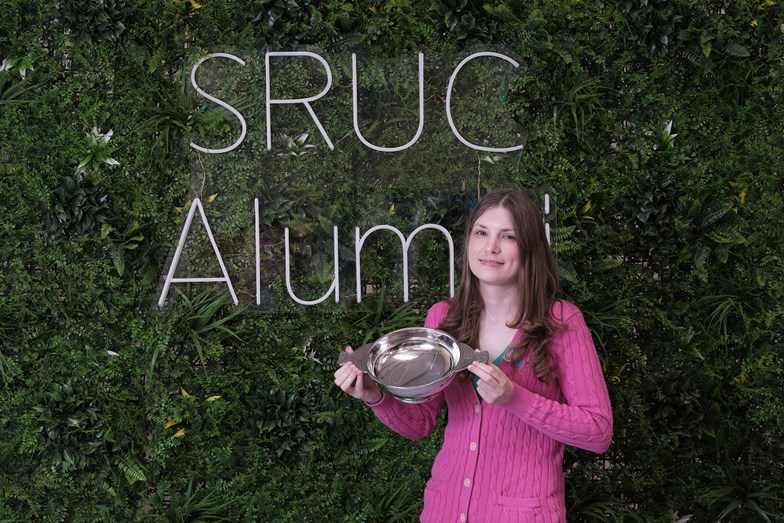 Ashley Little received the Fairweather Prize in recognition of her achievements at SRUC
A student who completed her veterinary nursing course after undergoing treatment for cancer has been awarded the inaugural Fairweather Prize for Further Education by Scotland's Rural College (SRUC).
Ashley Little, 36, who was diagnosed with endometrial cancer halfway through her studies, received the award at a prizewinning ceremony at SRUC's Oatridge campus in West Lothian.
The prize, established following a gift from Jamie Fairweather (who died last year, six months after being diagnosed with an aggressive brain cancer) and his wife Mary, recognises students who have demonstrated exceptional qualities – such as resilience, community mindedness, overcoming adversity and determination – over the course of their studies.
Ashley, originally from Dumfries, started her career with the media metadata supply company BDSWest10 after doing a BA (Hons) degree in Commercial Music at the University of the West of Scotland.
However, her love of animals led her to change career and take a job as an Animal Care Assistant at Broadleys Veterinary Hospital in Stirling. The practice offered to support her through the SRUC Level 3 Diploma in Veterinary Nursing course which allows students to study while working.
However, during her second year of study in 2019, she started to experience severe stomach pains which continued to worsen. She persevered with her studies and job and when she was furloughed from work during the Covid-19 pandemic, she continued to attend online classes.
After almost a year of repeated GP visits and hospital appointments she was diagnosed with endometrial cancer in July 2020 at the age of 33.
"In order to go through the gruelling treatment plan, I had to take a break from my training," she said. "Due to the pandemic I had to attend all my appointments and treatments alone and had to isolate prior to several procedures which meant spending a lot of my time on my own mentally processing my condition and what I had to endure.
"I had a full hysterectomy after which my diagnosis was confirmed as stage 3, and I was required to go through adjuvant treatment in the form of chemotherapy and radiotherapy. The side effects of the treatments often felt torturous and even now I am not sure how I was able to get through to the other side. But I was lucky enough to have family and friends who supported me through the biggest challenge I hope I will ever have to face.
"My colleagues and lecturers also showed me a great deal of empathy and understanding during this time and were ready to provide me with the help I needed when I recovered enough to return to work and to my studies.
"I was very relieved to receive my results and finally achieve my qualification despite everything."
Now a qualified Registered Veterinary Nurse, she is continuing to gain experience in her job, as well as enjoying spending time with her two dogs and three cats and playing and writing songs on her ukulele and guitar.
"After my illness I have a greater appreciation for the fragility of life and the importance of finding joy in the little things," she said. 
"I am very honoured to receive this award which exists due to the great generosity of Jamie and Mary Fairweather, and I would like to express my gratitude to the Fairweather family.
"For me, this award symbolises the end of a very long and challenging road and the beginning of a new chapter."
For more information about the range of bursaries available at SRUC, visit: Student bursaries | SRUC.
Posted by SRUC on 15/06/2023