SRUC student wins best pitch award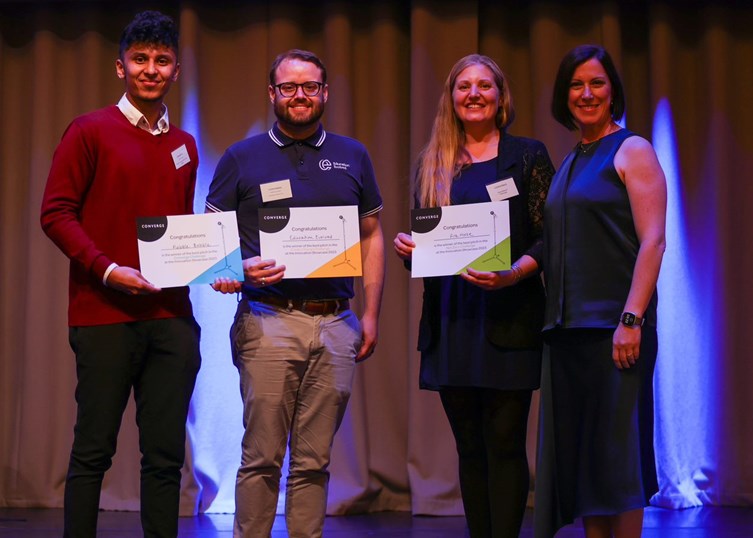 Anna Renouf, second from right, won an award for her FireHorse pitch
An SRUC student has won a Best Pitch award and £500 for her business proposition to develop briquettes and pellets from horse manure at an innovation showcase.
Hosted by Converge, a springboard for the latest innovations from Scotland's higher education sector, the event showcased quick-fire pitches from semi-finalists in three challenge categories – Create Change, Net Zero and Converge.
Anna Renouf, a Masters Agricultural Professional Practice student at SRUC's Aberdeen campus, won in the Net Zero category for her waste management company 'FireHorse', developing renewable biomass briquettes and pellets from horse manure to heat homes and businesses.
The 47 semi-finalists had just 60 seconds each to secure the votes of the 120-strong audience made up of the country's foremost investors and business leaders at the Assembly Rooms in Edinburgh.
The event marked the end of a full week of entrepreneurial training for the semi-finalists with all participants now tasked with refining their business models ahead of this year's Converge award finals in October. 
Anna, who was also a finalist in the SRUC Enterprise Challenge in January, said: "I was so surprised and delighted to be chosen for the Best Pitch award. There are so many amazing and inspirational businesses, and it has been a privilege to learn and engage with them all over the last four days of training with Converge."
Dr Carol Langston, Director of SRUC's Enterprise Academy, said: "We are delighted with Anna's success at the Converge Showcase. It's a privilege to be a part of her entrepreneurial journey and we look forward to seeing how she progresses with FireHorse."
For more information about all the projects involved in the pitch event, visit: https://ow.ly/NRlo50OLY5P
Posted by SRUC on 15/06/2023