SRUC takes top award for farming innovation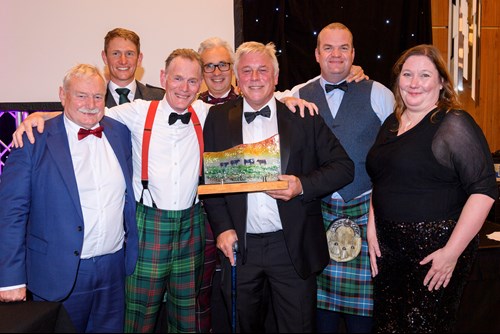 Professor Wayne Powell, left, Professor Mike Coffey, centre, and Professor Eileen Wall, right, collect the Innovation in Farming Award.
SRUC's expertise and innovation in the field of animal genomics has been recognised with a national award.
As a partner in the Fastbreeders project, in which four pasture dairy farms use data to enable precise genomic selection decisions to maximise the health and efficiency of crossbred dairy cows, SRUC picked up the Innovation in Farming title at this week's Helping It Happen Awards in Edinburgh.
Professor Mike Coffey from SRUC said: "It's wonderful to have your work recognised and the Fastbreeders project brings great personal pleasure because the farmers concerned are very keen to get results, to apply them and make changes to their cows.
"The farmers in the groups are very much research and information focussed and very receptive to new ideas and ways of operating. The project and the farmers act as a great example of how it can be done when farmers are motivated to make changes."
Hosted by member organisation Scottish Land & Estates and supported by headline sponsor NatureScot, the awards honour some of Scotland's most innovative, diverse and imaginative rural businesses.
Sarah-Jane Laing, Scottish Land & Estates Executive Director, said: "We are delighted that our first in-person awards ceremony since 2019 has seen such an array of wonderful businesses, each doing great things for rural Scotland. Entries were consistently strong and inspiring and judging once again very challenging.
"The highest standards, the latest technology and embracing the expectation to prioritise environmental sustainability are key challenges facing rural enterprises and I take delight in seeing many succeed in meeting these demands.
"Having the chance to celebrate with our winners in person this year has been incredibly rewarding. Our rural communities are fortunate to have so many champions and contributors."
Claudia Rowse, Deputy Director of Green Economy at NatureScot, said: "These awards are an important recognition of the farmers and other land managers who work so hard to help their communities and the environment. The wide range of the projects, from supporting young farmers, restoring peatlands and native species like golden eagles, and building mountain paths and much more, is wonderful to see. Congratulations to all the nominees and winners."
Posted by SRUC on 07/10/2022