SRUC offers 'gateway of opportunity' for prospective gamekeepers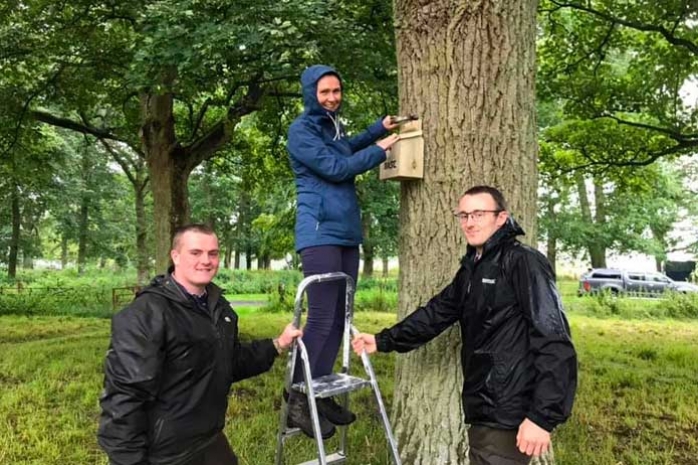 "MP for North East Fife Wendy Chamberlain on a visit to Elmwood's gamekeeping department"
SRUC is providing a unique opportunity to enter the gamekeeping profession, according to the MP for North East Fife.
Wendy Chamberlain, who was elected in December last year, visited the gamekeeping facilities at SRUC's Elmwood campus in Cupar to learn about the preparation of deer carcasses, gamebird rearing and the positive impacts of shoot management on biodiversity.
She also visited the local estate managed by the students and staff, where she put up a birdbox donated by the British Association for Shooting and Conservation (BASC) as part of its project highlighting the link between gamekeeping and the conservation of wildlife, and in particular songbirds.
She said: "I really enjoyed my visit to SRUC Elmwood and I applaud the gamekeeping department for offering such rigorous and comprehensive training to the next generation of Scotland's gamekeepers.
"SRUC provides a gateway of opportunity to prospective gamekeepers in Fife and beyond. It is so important that we give our young people the chance to access professions like gamekeeping which are integral to rural Scotland.
"I'm pleased to support them as their MP and look forward to working with them in the future."
Jim Goodlad, lecturer in Gamekeeping and Wildlife Management at Elmwood, said: "It was a pleasure to be able to host our local MP, and to showcase the important vocational training undertaken by Scotland's gamekeepers.
"We strive to provide our students with a unique experience, allowing them to get 'hands on' in our recently refurbished facilities and on the local estate that we manage."
Elmwood is unique in offering gamekeeping training which prepares students for both upland and lowland employment. p
To find out more about studying Gamekeeping at Elmwood, you can attend a virtual open day on Thursday 20 August at 2pm. To book a place, visit: www.sruc.ac.uk/elmwoodopendays
Posted by SRUC on 10/08/2020