New 'lifeline' for show garden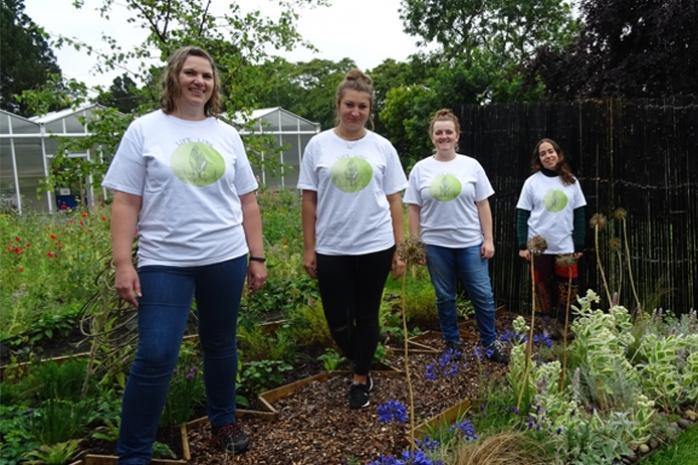 "Kirstyn MacFarlane, Dominika Fularczyk, Lucy Rowlands and Ines Isern del Barrio with their show garden"


Garden Design students at Scotland's Rural College (SRUC) have breathed new life into their show garden which was originally designed for Gardening Scotland.
Gardening Scotland 2020, which was set to celebrate its 21st anniversary at the end of May, was cancelled due to the coronavirus pandemic.
However, the team of students from SRUC Edinburgh decided to go ahead and build a scaled-down version of the garden on the campus.
They arranged for the plants to be delivered directly to the campus and organised a build schedule to allow for social distancing, with lecturer Matt Jessop and one student on site at a time.
The garden, which was designed by student Lucy Rowlands, is called 'Lifeline' and highlights the damage imported species can have on native UK flora.
Divided into two, one half of the garden is planted with UK native plants, while the other contains popular imported plants. All the species are at risk of plant diseases and pests such as Xylella Fastidious and Phytopthora.
In the middle of the garden, a path shaped like an electrocardiogram (ECG), represents the heartbeat – and lifeline – of the native species, as well as symbolising human health.
Lucy, who worked on the garden with team members Inés Isern del Barrio, Kirstyn MacFarlane, Lucy Rowlands, Dominika Fularczyk and Callum McRobbie, said: "The design emphasises the importance of protecting Britain's native and naturalised plant life by not importing plants that could be hosts for major pests and diseases.
"On one side of the garden we have British native or naturalised, responsibly-sourced plant species, and on the other side we have examples of plants that are often imported and have the potential for carrying pests and diseases if they are not responsibly sourced.
"On the native side we've used warmer colours and materials and contrasted these with the non-native side where we have used cooler colours and materials.
"All materials and plants have been sourced from the UK as we would like to highlight the importance of buying British."
Matt said: "The national lockdown has posed significant problems for horticulture; spring is the very season where the industry comes to life and the cancellation of Gardening Scotland hit us hard – it truly was a key feature of the gardening calendar.
"It has also been difficult for the students who have invested so much of their energy and time into the project. They've been working on this design for a long time and were really looking forward to showcasing their skills and promoting their cause.
"Having said that, I've been really impressed with how positive, pragmatic and proactive they were in finding a happy solution. Our weekly virtual meetings, sometimes in pyjamas, have been a great source of amusement and a great way to cheer ourselves up."
Posted by SRUC on 03/08/2020