SRUC celebrates ten years with Holyrood showcase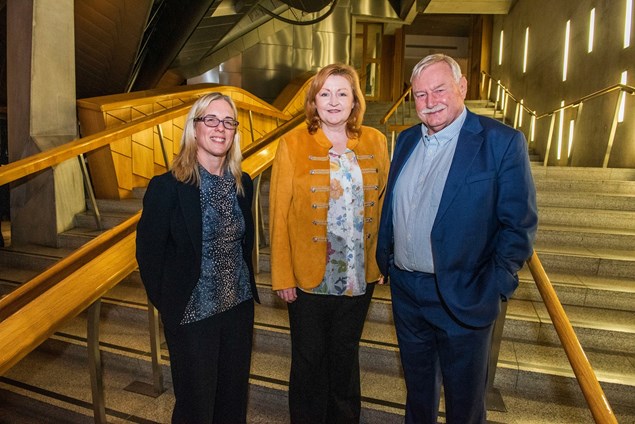 Mary Thomson, Emma Harper, and Wayne Powell at SRUC's reception at Holyrood.
On the day the world reached a population of eight billion people, the role of Scotland's Rural College (SRUC) has never been clearer.
Speaking at a parliamentary reception at Holyrood to celebrate the tenth anniversary of the institution, Professor Wayne Powell said the "remarkable" global milestone meant SRUC had a role in "shaping the planet's destiny", as it focussed on tackling immense challenges such as food and nutrition security and climate change.
But key to fulfilling this role, said the SRUC Principal and Chief Executive, would be SRUC becoming a "world-class agri-food university", something that the 2012 merger of the Scottish Agricultural College (SAC) with Barony, Elmwood and Oatridge colleges had given it the perfect platform to do.
The reception in Edinburgh, which welcomed around 150 guests including MSPs, industry members, and former students and staff, was hosted by Emma Harper. The MSP, whose South of Scotland constituency includes Barony – home to the £30 million Digital Dairy Chain and Dairy Nexus projects – said: "Thank you to SRUC for the absolutely fantastic work you do and I'm sure there's plenty more to come."
Guests also heard from Mary Thomson, SRUC Vice-Principal – Skills and Lifelong Learning, who talked about the practical, emotional and cognitive skills taught at SRUC to tackle Scotland's skills shortage, including the creation of the country's first new vet school in more than 150 years.
Meanwhile, Carol Langston, who leads SRUC's Enterprise Academy for the Rural and Natural Economy, pointed to the vital role that young entrepreneurs can play in solving environmental and societal problems.
During the reception, guests were also able to find out more about some of SRUC's ground-breaking research, including the award-winning Qualitative Behaviour Assessment (QBA) animal welfare app, which has been further developed in collaboration with Waitrose, Agrecalc, and the Rural Policy Centre, which recently launched its Rural Exchange web portal.
Thanking everyone who attended on behalf of the Chair, Linda Hanna, the Board and staff at SRUC, Prof Powell added: "Recent world events, including Brexit, Covid and the war in Ukraine, have brought into sharp focus the huge importance of the natural economy in Scotland. The 2012 merger and creation of SRUC has provided us with a massive opportunity to create a world-class agri-food university in Scotland which, with unprecedented levels of collaboration and innovation, can make a real difference in tackling some of the major challenges facing our planet."
For more information, contact tom.maxwell@sruc.ac.uk; 0131 535 4196
Posted by SRUC on 16/11/2022