SRUC celebrates student successes at ALBAS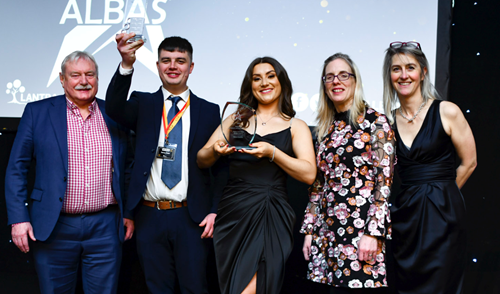 Winners Danny and Naomi celebrate awards with Wayne Powell, Mary Thomson and Diane Smith
Agriculture, Horse Care and Engineering students from SRUC were among the top winners at this year's Awards for Land-based and Aquaculture Skills (ALBAS).
Seven SRUC finalists came away with a total of eleven prizes between them from the event at the Doubletree by Hilton Dunblane Hydro.
Overall winner Nia Hunter is a UHI Shetland apprentice who attends SRUC Barony for her vocational qualifications. In addition, Nia picked up the title of Modern Apprentice of the Year and Agriculture Learner of the Year and was also winner of a CARAS (Council for Awards of Agricultural Societies) Award.
Naomi Ramsay, who completed an HND in Agriculture at Oatridge and is now studying for a degree at the Edinburgh campus, won the Higher Education HND category as well as a CARAS award in recognition of her distinguished achievement in agriculture and related land-based industries.
Representing the Oatridge campus, former Horse Care student Lara Fell, who is now working at Keith Dalgleish's racing yard in Carluke, won the Equine category and Modern Apprentice Danny Cook, who is doing an SVQ in Land-based Engineering and Agricultural Machinery, took the top award for Land-based Engineering.
Oatridge student Victoria McKigen, who completed an Advanced Certificate in Horse Care and is now doing an HND in Equine Studies, and Modern Apprentice Max Morrison, who is doing an SVQ in Land-based Engineering Groundcare through the Hamilton Ross Group, won the runner up awards in both categories.
Shannon Leask, a former Modern Apprentice from UHI Shetland at SRUC Elmwood, was runner up in the Horticulture category.
Drew Easton, Learning and Development Manager at the forest machine firm Jas P Wilson, won the new Mentor of the Year award after being nominated by SRUC in recognition of his 40-year career providing support to more than 500 apprentices.
Naomi said: "I am pleased my hard work has been recognised, it has made studying so worth it. I have gained so much confidence within myself. I look forward to the future and I am confident it will be somewhere within the agriculture sector."
Danny said: "Considering I had no farming background, I hope this can send the message that if you work and study hard, you really can achieve anything. I'd like to say thanks again to Lantra for the opportunity and the great night, and to SRUC engineering and my colleagues at R&R Machinery for supporting and teaching me everything that has led to this."
Dr Mary Thompson, Vice Principal of Skills and Lifelong Learning, said: "Congratulations to SRUC's Albas winners. This success demonstrates the strength of vocational education and skills development delivered within SRUC's apprenticeship and campus-based learning programmes. I'd also like to congratulate Drew and thank all mentors for the support they provide to our students. SRUC builds strong partnerships with employers to ensure learners benefit from industry relevant skills development."
Posted by SRUC on 13/03/2023