Julie-Ann named Apprentice of the Year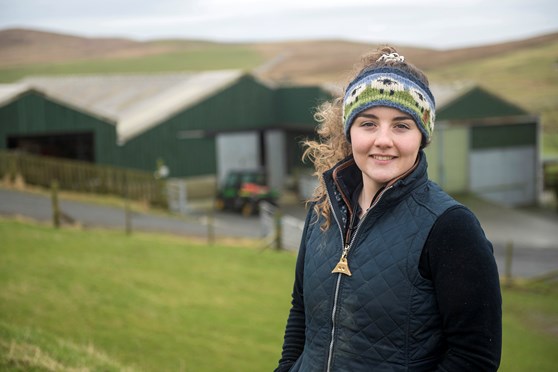 Julie-Ann Murray was crowned the nation's top apprentice at The Scottish Apprenticeship Awards this year.
An SRUC student has been named Scotland's Apprentice of the Year.
Julie-Ann Murray, who attends Barony five weeks a year and is progressing to a Level 6 Modern Apprenticeship, picked up the honour at the Scottish Apprenticeship Awards, organised by Skills Development Scotland.
As well as the top title, Julie-Ann won the Modern Apprentice SCQF Level 5 category sponsored by Scotland's Apprentice Network.
The 21-year-old Shetlander is now trusted to run the farm she works on, tending to a flock of up to 1,000 sheep and working round-the-clock during lambing season – and this allowed her employer to take their first holiday in five years.  
Julie-Ann, from North Roe, was announced as the overall winner by Jamie Hepburn MSP, Minister for Youth Employment and Training. 
Mr Hepburn said: "The Scottish Apprenticeship Awards are a great opportunity to recognise the vital work of apprentices as well as the valuable support of employers and learning providers who enable apprentices to succeed. Well done to all of the finalists and winners, who have achieved so much.
"Congratulations to Julie-Ann, who has shown exceptional determination, commitment and a real love of her dream job.  
"Julie-Ann's apprenticeship has made a huge difference to her and her career, as well as bringing benefits to her employer - all while developing and retaining key skills in the local community. Her successes demonstrates that apprenticeships are unlocking potential across Scotland." 
Julie-Ann was crowned the nation's top apprentice at the awards, which recognise the resilience and hard work of Foundation, Modern and Graduate Apprentices, as well as employers, providers and individuals who champion apprenticeships. 
She said: "I've changed a lot in my apprenticeship. It's given me so much confidence. My apprenticeship has made me confirm I want to be in agriculture and work in agriculture. I've done it all my life, it's what I want to keep doing." 
Julie-Ann's employer Pat Johnson, of I & P Johnson, said: "Julie-Ann's youth and enthusiasm gives everybody a lift and she brings in fresh ideas. I was able to go on holiday for the first time in five years, confident that all the work would be done properly and the animals well looked after, thanks to Julie-Ann. She is a real asset."  
Julie-Ann had been desperate to stay on the island and work with animals but faced a lack of opportunities and the expense of going to college on the mainland.  
But the ex-Brae High School pupil persevered and after a trial with Pat landed a job as an Agricultural Modern Apprentice on the farm.
Julie-Ann added: "Doing a full-time course would have meant being off the island for long periods, but we live on a croft and I didn't want to leave everything for my dad to do. I also have my two dogs and a horse to look after.  
"The Modern Apprenticeship allows me to do what I love, gain experience and a qualification, and be more financially independent."
UHI Shetland Vocational Training Coordinator Janice Leask said: "Julie-Ann's confidence has really improved throughout her Modern Apprenticeship and she has gained important life skills." 
Chair of Skills Development Scotland, Frank Mitchell said: "Apprenticeships are more critical now than ever, due to fast-paced changes in the workplace, and apprentices can be employed in real jobs making sure the skills gained are current through work-based learning."
Find out more about apprenticeship opportunities at SRUC.
Posted by SRUC on 14/03/2023