Rooting out causes of hoof condition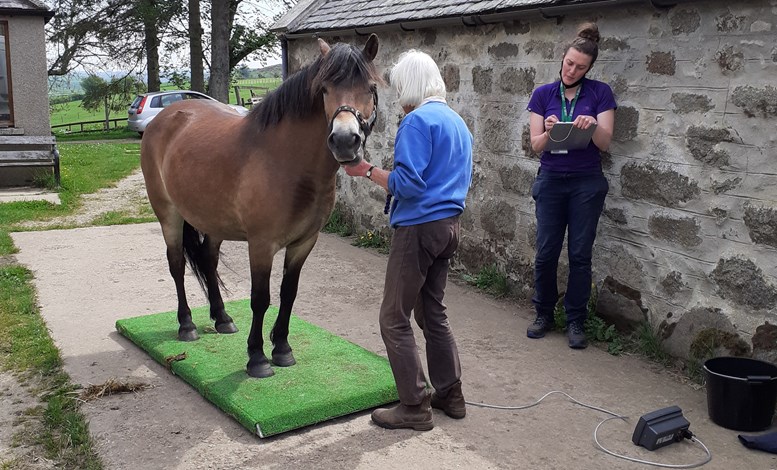 Ashley Ward carries out a yard visit as part of a study into laminitis.
Researchers at SRUC are calling on native-breed horse and pony owners in Aberdeenshire to help them with the next phase of their study into laminitis.
They are looking for people with native-breed horses or ponies aged four and over, and with no previous diagnosis of PPID (Equine Cushing's Syndrome), for the study investigating risk factors for pasture-associated laminitis - an extremely painful condition of the hoof that can have devastating consequences.

Postgraduate researchers Ashley Ward and Verena Schmidt are conducting two linked projects to try to identify previously unconsidered triggers for laminitis, both at the pony and pasture-level.

The projects, funded by the World Horse Welfare and the Rowland Sutton Trust, are being carried out in partnership with scientists at SRUC, WALTHAM Petcare Science Institute and the University of Aberdeen's Rowett Institute.

The first phase involves owners completing a questionnaire about their ponies and their management. This data will be used to better understand management practices of native-breed horses and ponies.

The second phase involves a yard visit where researchers will collect more information and take measurements - including body weight and body condition score – of the pony. They will also attempt to collect a fresh faecal, saliva and urine sample from the pony.

Verena said: "By analysing these samples from individual animals, we hope to identify whether differences in the bacterial communities (microbiota) or abundance of small molecules (metabolites) in these samples are related to individual risk for developing laminitis.

"Laminitis cases are commonly linked to changes in the pony's grass and/or consumption of this grass, so during the yard visit we would also like to gather more information on your pasture management strategies, and we may collect a pasture sample to evaluate the chemical composition of the grass.

"Analysing this data will allow us to better understand pasture-associated risk factors for laminitis. This we hope will then allow the development of evidence-based pasture management strategies that could be implemented to reduce the risk of laminitis." 

Phase two of the study, which was put on hold due to the coronavirus pandemic, will be conducted under Covid-19 safety guidelines.

Following the initial visit, the researchers will keep in touch with owners and repeat the sampling if their pony develops laminitis in the future.

If you are interested in getting involved, or for more information, please contact: projectpal@sruc.ac.uk or 01224 711 028.
Posted by SRUC on 11/06/2021