New tractors for Barony students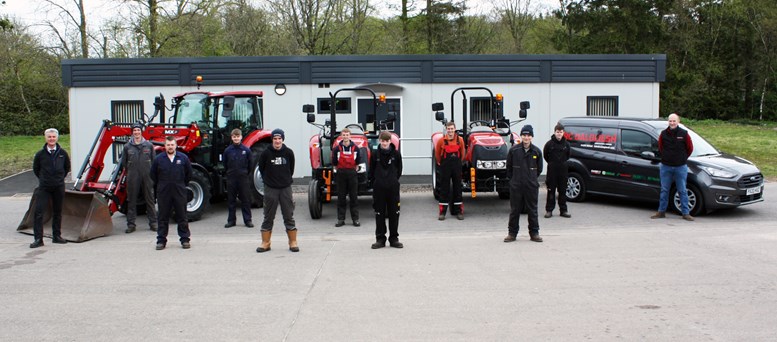 Robert Paterson (far left) with salesman Martin Little (far right) and Engineering students at SRUC Barony, Dumfries.
Engineering students at SRUC are to benefit from the delivery of three new tractors to the Barony campus in Dumfries.
The Case IH tractors were bought from local dealer RC Dalgliesh in Lockerbie after they offered SRUC financial support and a discount.
They include a couple of two-wheel drive platformed tractors fitted with basic controls and a compact chassis, and a four-wheel drive cabbed tractor with loader.
The tractors will be used to enhance the training experience for students across different departments at Barony including tractor driving, operation, maintenance and repair sessions.
Programme Team Leader Robert Paterson said: "We are grateful to our local dealers, who are keen to support and assist SRUC Barony in the provision of up-to-date training on modern machinery and technology.
"These new tractors will help to improve the student experience during their time at SRUC."
Robbie Dalgliesh, joint owner of the RC Dalgliesh, said: "We were delighted to be able to support SRUC Barony with the sale of three tractors.
"Both types of tractor are easy to operate and are ideal for students to learn on. Servicing and maintenance are also simple – again making it easy for the students to learn on – with the cabbed tractor having air conditioning to allow the Engineering division to continue with its air con training."
For more information about studying at SRUC, or to take part in a series of virtual open day events, visit: www.sruc.ac.uk/study
Posted by SRUC on 20/05/2021