New faces in SRUC Leadership team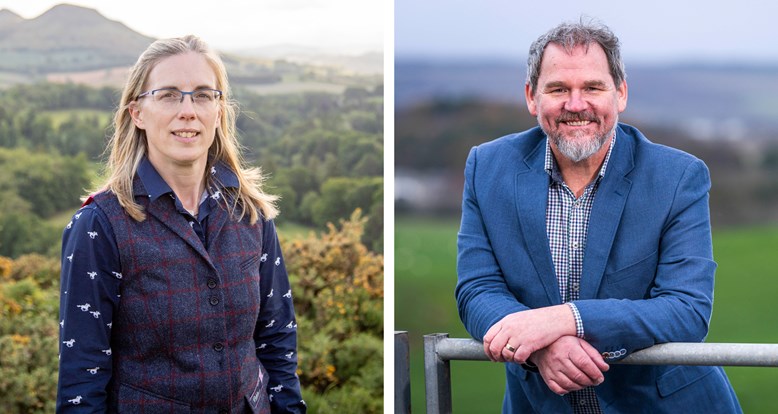 Mary Thomson will join SRUC as Director of Skills and Lifelong Learning, together with Ian Grinbergs as Chief Digital and Information Officer.
New senior appointments in skills and lifelong learning, digital transformation and commercialisation will support key strategic initiatives at SRUC.
Mary Thomson will join SRUC as Director of Skills and Lifelong Learning next month, while Ian Grinbergs takes up his position as Chief Digital and Information Officer in February.
Meanwhile, Andrew Lacey's interim position as Director of Commercialisation has now been made permanent.
Mary has 30 years of rural sector experience, ranging from seasonal agricultural and conservation work in rural Scotland through to veterinary and educational leadership in the UK and overseas.
Currently Rural Skills Curriculum and Learning Manager at Borders College, Mary will work with colleagues across SRUC to align and grow the organisation's impact in reskilling and upskilling in the natural economy, supported and guided by the Scottish Government's Future Skills Action Plan.
She said: "It is an absolute privilege to take on a leadership role with SRUC at this time when there is a need for society to focus on green recovery, net-zero nation, natural capital, human wellbeing and sustainable food production."
Ian worked as a farmer in rural North Yorkshire before heading to Australia and a career change to IT. After implementing and supporting technology within some of the largest mining companies in the world, he progressed to senior strategic roles including Chief Architect for Rio Tinto and Chief Technology Officer for the Downer Group.
He will join SRUC from the Royal College of Physicians and Surgeons of Glasgow, with the goal of transforming it into a digital-first organisation.
He said: "I am very excited to be joining SRUC at a time when there is such a focus on the rural economy and a reliance on SRUC to play our part in ensuring it is managed in a sustainable way. 
"I believe development and adoption of new technology across SRUC's areas of focus will significantly contribute to solving the big challenges our current and future generations are facing." 
Andrew Lacey joined SRUC in October 2017 as Head of SAC Consulting. He became interim Director of Commercialisation at SRUC earlier this year and, following a rigorous interview process, this position has now been made permanent.
He said: "We are in a period when SRUC and SAC Consulting have never been more relevant or had the chance to prove our value to society. I am excited to be a part of that."
Professor Wayne Powell, Principal and Chief Executive of SRUC, said: "I am delighted to welcome three new members of SRUC's Executive Leadership Team to support our key strategic objectives. Mary, Ian and Andrew  will be great assets to SRUC as we continue our journey to become an  enterprise university at the heart of the natural economy."
Posted by SRUC on 08/12/2021