Horse power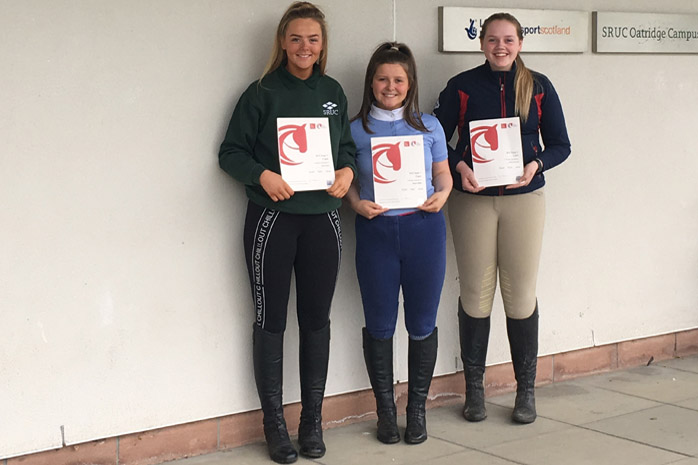 "Vicki Jarvis, Robyn Aitken and Jade Anderson celebrate BHS exam success"


Equine students from Scotland's Rural College are celebrating after passing their British Horse Society (BHS) exams.
A total of 17 students, from the Equine Studies and Horse Care courses at SRUC's Oatridge campus, enjoyed success in the exams which were held in the Scottish National Equestrian Centre on site.
The exams are professional equine industry qualifications and are recognised internationally.
Equine Instructor Samantha Bowstead, who delivered the training, said: "This is a great result and we are all very proud of their achievements.
"Passing these exams will enhance their future employment opportunities."
HNC Equine Studies student Savannah Fox said: "This is a proud moment to end the year on."
Training for the exam and the exam fees were covered by SRUC.
Equine Programme Team Leader Louise Bulmer said: "We are keen to ensure the success of our equine students in industry by providing them with the very best training as well as the opportunities to gain additional qualifications alongside their courses.
"We hope to build on this success again in the next academic year."
In separate exams, six HND Equine Studies students passed their Level 1 Equestrian Coaching Assistant Certificate.
This is an optional additional qualification offered to HND students for a nominal fee – with the rest of the costs covered by SRUC, which is taught in-house and assessed by an external assessor from Horsescotland.
The students also gained a First Aid qualification as well as their Safeguarding and Protecting Children certificate.
Posted by SRUC on 02/07/2019