Catch of the day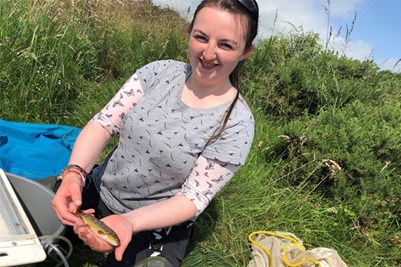 "Eilidh with the biggest trout found during her surveys"


Countryside Management graduate Eilidh Player has netted the perfect job after gaining an honours degree from Scotland's Rural College.
The 21-year-old is working as a seasonal survey assistant at the River Dee Trust, a charity which looks after the river's ecology and associated fish stocks.
She said: "I spend the majority of my time doing fish surveys in the rivers Dee and Don, with the data being used to estimate fish populations.
"I'm really enjoying myself and learning a lot."
Eilidh chose to study Countryside Management at SRUC because of its focus on the outdoors and the countryside.
"I like learning about the outdoors, nature and wildlife," she said. "It was something that appealed to me from the get-go as I enjoy being outside."
Her favourite memories of SRUC are of the field trips to Mull and the west coast of Scotland.
She also became involved in the Craibstone Rural Skills Club, as well as volunteering with the Royal Society for the Protection of Birds, Scottish Natural Heritage, Saving Scotland's Red Squirrels and the Countryside Ranger Service in Aberdeen.
In addition Eilidh, who was diagnosed with dyslexia at school, became a Young Ambassador for Dyslexia Scotland.
Eilidh's hard work paid off when she was awarded the Royal Northern Agricultural Society's Special Achievement Award for promoting, supporting and enhancing student life at SRUC Aberdeen, when she graduated in July.
"I came to SRUC with very few qualifications and very little confidence in my abilities," she said. "SRUC has helped me become the person I am now.
"I feel I have gained a lot of skills and knowledge from studying Countryside Management."


Posted by SRUC on 29/08/2019