Agriculture student swaps beauty for beasts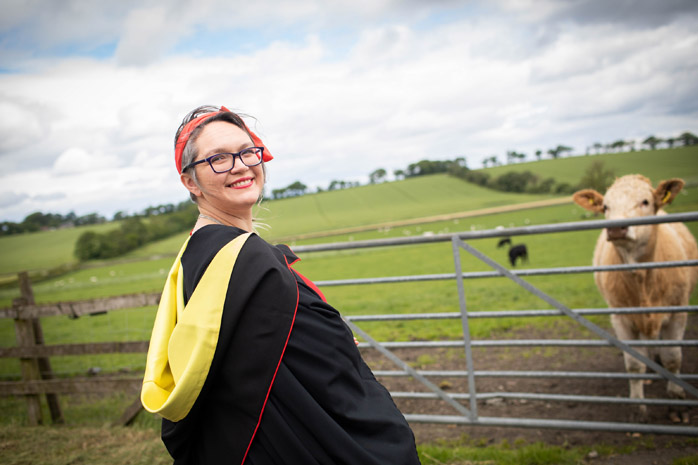 Former beauty therapist Katie Dubarry graduates with a first-class honours degree in Agriculture


An agriculture student who started her career as a beauty therapist is among 650 students graduating from Scotland's Rural College (SRUC) today (Friday 5 July).
Mum-of-two Katie Dubarry, 34, will graduate with a first-class honours degree in Agriculture at SRUC's summer graduation ceremony at the University of Glasgow's Bute Hall.
She is one of a record 16 graduands achieving a first-class honours degree this year in subjects ranging from Agriculture, Rural Business Management and Environmental Resource Management, to Applied Animal Science, Horticulture, and Garden and Greenspace Design.
Katie, who is originally from Lichfield in Staffordshire but now lives in Edinburgh, worked as a beauty therapist in France but became disillusioned with the job when she moved back to the UK.
"I wanted to learn about how we can live more sustainably, how we produce the things we do and how we consume things," said Katie. "All of these thought processes combined into an interest in farming and the ways people work the land, but I didn't know the first thing about it."
Five years after starting on the National Certificate course at SRUC's Oatridge campus, Katie is graduating with a BSc degree from the Edinburgh campus, and – after taking a year out to represent SRUC as Vice President of the Student Association – is interested in continuing to PhD level.
"After the first year I was hooked," she said. "As I have worked through, I have discovered all about other aspects I had no idea were part of agriculture."
Students from SRUC's campuses in Edinburgh, Aberdeen, Dumfries, Fife, West Lothian and Ayr will receive awards for qualifications ranging from PhD and postgraduate diploma to degree and HNC level.
In his address to graduates Wayne Powell, Principal and Chief Executive of SRUC, said: "I firmly believe that SRUC people are different. They have guts and a commitment that inspires them to make a difference, to drive forward their respective industries and make an impact."
Posted by SRUC on 05/07/2019