Helping businesses adapt to change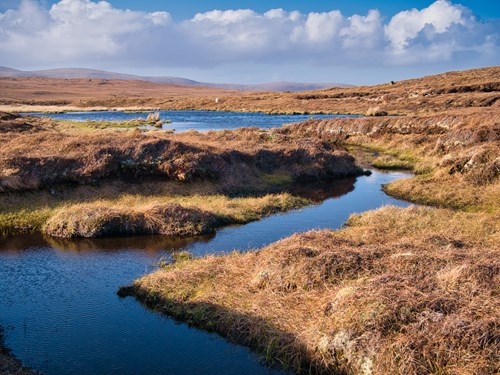 Peatland restoration can finance a natural capital approach to address both climate change and biodiversity loss.
Change is afoot. Consumers, shareholders, and financiers are becoming increasingly interested in the environmental performance of the businesses they support and their wider value chains.  
More and more businesses that we work with at SAC Consulting are looking not just for carbon audits and life-cycle analysis (LCA), but full sustainability assessments to inform their environmental, social and governance (ESG) performance. They want to understand their strong points, but also where their environmental 'gaps' are and what actions are most effective in terms of addressing cost, climate, and biodiversity. 
As a consumer, how do you know that the actions being taken are genuine and not just another case of greenwash? The Science Based Targets initiative is one way of ensuring a company's emission reduction targets are robust, giving a credible way to demonstrate their commitment to help combat climate change. Globally, more than 3000 companies are taking part at time of writing and new Forest Land and Agriculture guidance has recently been published, shining a light on emissions from the land sector.  Independent verification and validation are key. We see these verification standards being used via the Woodland Carbon Code and IUCN Peatland Code, providing assurances that the climate benefits being sold are real, quantifiable, additional, and permanent.  Having robust environmental credentials is now also a positive marketing tool.
Nature-based solutions to the climate crisis bring benefits for people and communities too, whether through reducing flooding risk to towns and villages via a natural flood management scheme or protecting and restoring peatlands to bolster their carbon sequestration function. With estimates suggesting that peatland covers around 20 per cent of Scotland, peatland restoration can provide an economic and efficient way of financing a natural capital approach to address both climate change and biodiversity loss. 
In the past, biodiversity was perhaps perceived as the poor relative in terms of attracting funding, however the move towards more nature-based solutions is now gaining traction. Well-designed nature-based solutions, working in partnership with nature, can help us move towards both emissions reduction and longer-term resilience enabling our natural ecosystems to better cope with a changing climate. This creates a more holistic 'nature positive' approach, strengthening our stocks of natural capital.
Getting a baseline assessment of where your business is, and where you could go to in terms of reducing emissions and supporting natural capital is a useful starting point. It will allow you to understand your current climate and biodiversity position, and how this could be enhanced to the benefit of both the environment and business performance. Data collection and interpretation will be key; this could be a carbon audit through our accredited carbon tool, Agrecalc, wider value chain LCA, or using unmanned aerial vehicles (UAVs - also known as drones) to identify habitats or monitor ecosystem services and their contribution to carbon sequestration.   
The science supporting climate change and biodiversity loss, and the link to human activity, is now well proven. Yes, we need to be sure that our actions are not leading to unintended consequences, but the time for arguing about the data and tinkering around the edges has passed. We must work around the data gaps, go with what we know, and action the best science-based solutions that the research is offering.
One thing we have all been good at of late is adapting to change, and either way, change is going to happen.  
The environment team at SAC Consulting is here to help you navigate these diverse issues. From carbon auditing and lifecycle analyses, to mapping and use of remote sensing technology such as drones, our team of skilled environmental professionals will equip your business with robust data and the insight needed to help you move towards net zero and strengthen your green credentials.
We can help your business to achieve environmental compliance, identify sustainable energy solutions, and assess and restore biodiversity and habitats.  From enhancing and supporting your natural capital to meeting net zero targets, we will develop a tailored, comprehensive approach to enhance and support your environmental and business needs.
For more information, get in touch with the environment team at SAC Consulting on environment@sac.co.uk or visit www.sac.co.uk, and search for food and footprint.
Posted by Rebecca Audsley on 06/10/2022