Greenhouse gas guru debates cows versus cars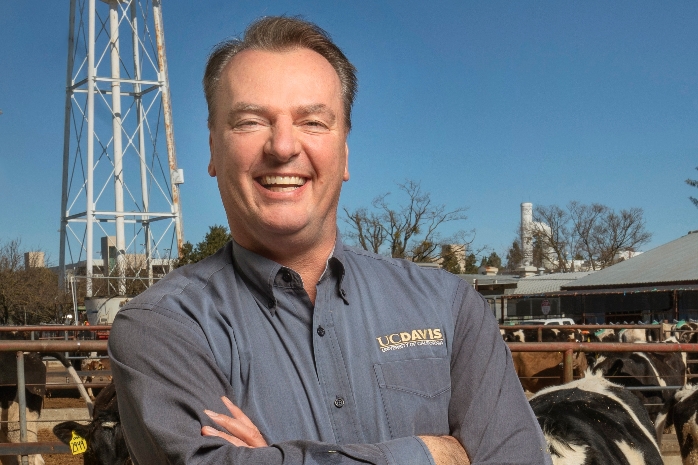 "Greenhouse gas guru Frank M Mitloehne will lead a climate change webinar"


A global greenhouse gas specialist from California will lead a webinar looking at the role of livestock in the debate about climate change and greenhouse gas emissions.
Frank M Mitloehner, Professor and Air Quality Specialist at the University of California, will talk about the cow carbon cycle and the role livestock play in the challenge of nourishing a growing global population.
The Climate Change – Cows Vs Cars webinar, on Wednesday 29 July, is part of a summer series organised by SAC Consulting – part of Scotland's Rural College (SRUC), on behalf of the Farm Advisory Service.
Frank has an MSc and doctoral degree in Animal Science and over 20 years research experience in this field. His core research focuses on mitigating emissions from livestock operations, as well as studying the implications of these emissions on the health of farm workers and communities.
He shares his knowledge and research with students, scientists, farmers, policy makers and the public all over the world.
The webinar will look at the many theories and opinions about how to work towards creating a sustainable planet with cleaner air quality.
The final webinar in the series, Climate Change – Crops and Soils, on Wednesday 5 August, will build on the theories and options that are available to creating a sustainable planet with cleaner air quality.
The two guest speakers – Prof Bob Rees, SRUC's Head of Carbon Management, and Prof Ian Bingham, senior researcher at SRUC focusing on crop physiology and resource efficiency – are both at the cutting edge of research into how arable farming may have to change in the future and how farmers can manage the carbon footprint of their cropping systems.
Both webinars, which fit in with SRUC's focus on the sustainable natural economy as part of its refreshed vision and mission, will run from 8pm to 9pm, with recordings available afterwards for those unable to join the live event.
For more information or to book a place visit: www.fas.scot/news/a-new-start/
Posted by SRUC on 28/07/2020