'Game-changing moment' for UK sheep breeding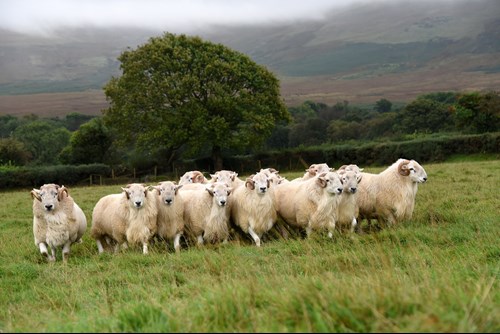 A Hill Ram Scheme flock. Credit: Hybu Cig Cymru
Sheep breeding in the UK has witnessed a "game-changing moment", following groundbreaking work on genomic breeding values (gEBVs).
As part of the Hill Ram Scheme, a pioneering five-year project run by Hybu Cig Cymru – Meat Promotion Wales (HCC), hill sheep farmers in the UK can now have access to gEBVs for a range of economically important traits.
Data collected as part of the project has enabled Dr Samir Id-Lahoucine from EGENES, part of SRUC, to produce the UK's first published gEBVs for sheep. These values have been made available to the participating farmers through AHDB's Signet Breeding Services.
gEBVs are an important development for sheep since they enable recording undertaken in a few flocks to produce genetic indices of high accuracy for all sheep farmers.
This will be more important when expensive and difficult-to-measure traits such as methane emissions, feed intake and meat quality are recorded.
Dr Id-Lahoucine said: "There are some challenges in producing gEBVs for different breeds and crossbreeds but the project produced really good data that enabled high accuracy indices to be calculated.
"We are looking forward to gEBVs being a routine part of evaluations to provide higher prediction accuracies to select and propagate superior rams, leading to more genotyping, more performance recording and more genetic improvement in the UK sheep sector."
Professor Eileen Wall, Head of Research at SRUC, said: "While gEBVs have been available for dairy and beef cattle for some time, this is the game-changing moment for the sheep industry. It signifies the research undertaken by SRUC and HCC is now being applied widely by UK sheep farmers and will accelerate genetic improvement for emerging traits such as methane emissions and feed efficiency."
The work was delivered through HCC's Hill Ram Scheme as part of the Red Meat Development Programme and funded through the Welsh Government and EU Rural Development Programme.
Posted by SRUC on 07/07/2023