SAC Consulting celebrates its first cohort of Carbon Literate citizens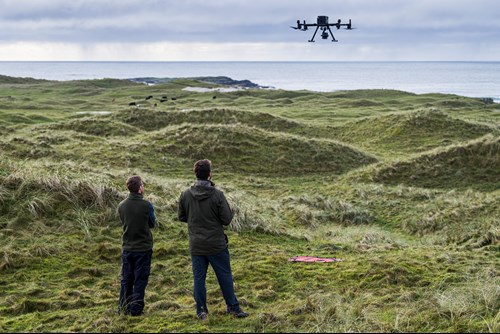 SAC Consulting is enhancing its Carbon Literacy credentials
The organisation charged with delivering independent, research-driven advice and solutions for agricultural, food and land-based businesses across Scotland is taking significant steps to enhance its Carbon Literacy credentials.
SAC Consulting – part of SRUC – has ten members of its team who are leading the way in Carbon Literacy qualifications for rural industries in Scotland, having gained certifications from the Carbon Literacy Project (CLP) after participating in Climate Emergency Training delivered by environmental charity, Keep Scotland Beautiful (as official partner in Scotland for the CLP).
Carbon Literacy is an awareness of the carbon dioxide costs and impacts of everyday activities.  It is also an accredited training scheme which is run by the CLP to embed sustainable behaviour changes within an organisation.
Andrew Lacey, Head of SAC Consulting and Vice Principal of Commercial at SRUC, said: "It is important to be able to offer our staff this development opportunity and to see this inaugural cohort having completed their training to become Carbon Literate Citizens.
"Carbon Literacy is key for us because land management, agriculture and food production all hold significant carbon impacts for Scotland.
"As we offer independent, research-driven, industry-leading expertise, advice, and solutions for agricultural, food, and land-based businesses, it is crucial that our workforce has a broad understanding of the carbon landscape, terminology, and technical information, in order to positively lead the movement towards Net Zero for rural industries.
"Whether our staff are advisors, consultants, administrators or managers, there's a responsibility to ensure that we can all collectively understand the carbon impacts of our work, and our life choices, and can talk to these everyday actions to positively impact climate change."
The CLP is the only recognised platform for this kind of accreditation programme, engaging with organisations such as the NHS, Keep Scotland Beautiful, and Patagonia. It was recognised as such by the UN at COP21, in Paris, where it was awarded as a TAP100, one of 100 worldwide Transformative Action Programs. As of June, more than 62,000 individuals from nearly 4,500 organisations are now Carbon Literate across the UK.
As part of a companywide initiative, SAC Consulting is investing in sustainability qualifications for staff, to deepen awareness of the carbon costs and the impacts of their everyday activities.
Carbon Literacy training offers a chance to undertake relevant climate change learning that leads to positivity and action towards reducing carbon emissions, as well as embedding awareness of the climate impacts of everyday actions. 
Learners develop their knowledge and skills to lower their own carbon footprint, and the carbon footprint of others, while having the confidence to share their Carbon Literacy journey to help raise awareness of its importance and application with customers, staff, and industry partners alike.
Posted by SRUC on 07/07/2023