Pathfinder project plots the way ahead for rural skills careers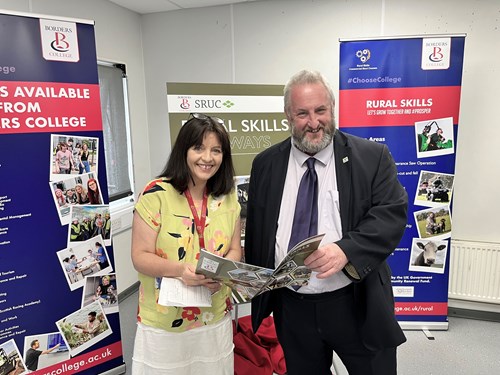 Anne Marie Sturrock from Borders College at the prospectus launch with SRUC's Jamie Newbold
An innovative partnership funded by the Scottish Funding Council will see rural skills career pathways easier to follow, thanks to a joint prospectus produced by SRUC and Borders College.
The Rural Skills Pathways Prospectus was officially launched at the Borders College Newtown St Boswells campus. Representatives from the SFC, Scottish Borders Council, and South of Scotland Enterprise (SOSE) were in attendance, as well as staff from Borders College and SRUC.
A Statement of Strategic Intent was also signed by Borders College Principal Pete Smith and Professor Wayne Powell, Principal of SRUC, to cement the new initiative and ongoing partnership.
Borders College Principal Pete Smith welcomed guests to the event and said: "I'm delighted to welcome colleagues to our Newtown Campus for this sector-leading project launch, and I'm delighted that we are collaboratively able to officially launch the prospectus and sign the Statement of Strategic Intent with SRUC.
Jamie Newbold, Provost and Deputy Principal at SRUC, said: "We see this joint prospectus as a first step in identifying areas for new joint-course development, with a focus on modes of delivery and levels of provision which are not serviced within the region, and thus either require learners to move out of the region or forgo career progression."
The publication highlights learner pathway opportunities in a number of disciplines, which include Animal Care, Horticulture and Landscaping, Conservation, Forestry and Gamekeeping, and Landscaping, from SCQF level 4 up to SCQF level 8 and above.
Potential students will be able to see the courses on offer within the south of Scotland region from either organisation and at which level they can study, along with the opportunities to further develop within their chosen area.
Anne Marie Sturrock, Vice Principal – Student Experience, Borders College, said: "We are delighted to present this joint prospectus on the land-based sectors. Borders College and SRUC are committed to establishing clear pathways of provision, to ensure the approximately 4,500 new employees being predicted for the land-based industry in the south of Scotland have access to flexible high-level short-course training and practice-based innovation, particularly those requiring upskilling, who are currently in the sector."
Seamus Spencer, Assistant Director for Coherent Learning Provision at SFC, said: "It has been wonderful to celebrate the launch of the joint prospectus and to hear from the principals about the positive experience of collaborating in this way and their intent for the future.
"This partnership for skills shows how colleges and universities can work together in transformative ways to have a real impact on regional economies, learners and build the workforce of tomorrow."
With a strong record of serving the land-based sector in the south of Scotland, both Borders College and SRUC aim to improve awareness of the further and higher education courses offered in this key sector by showcasing the range of learning opportunities available. These include flexible short courses and practical-based opportunities on offer at all stages.
In addition to highlighting existing courses, SRUC and Borders College will identify areas within which to develop new land-based courses and provision in the region, which will support the local agri-tech industry and its employees, with the further aim of encouraging regional upskilling and growth.
Posted by SRUC on 04/07/2023