Former SRUC student stars in new garden series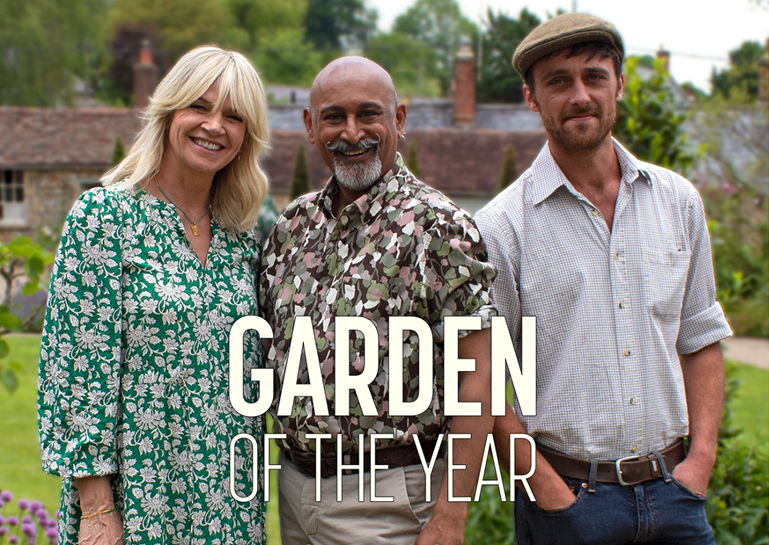 Lachlan Rae (right) presents the Garden of the Year series with Zoe Ball and Manoj Malde.
A former Horticulture with Plantsmanship student from SRUC is appearing on a new six-part TV series to find the UK's most spectacular home garden.
Lachlan Rae, who graduated from SRUC's Edinburgh campus in 2015, joins presenter and keen gardener Zoe Ball and garden designer Manoj Malde on More4's Garden of the Year series which starts tonight.
The three judges are looking to find the best domestic garden in the UK, with a winner from each of five regions being put forward to the final.
Lachlan, who won The Chartered Institute of Horticulture's Young Horticulturist of the Year award in 2017, was approached by Scotland-based production company IWC media about making a TV series a couple of years ago.
"They had found a few magazine and newspaper articles I'd been featured in or contributed towards following my success in the Young Horticulturist of the Year competition," he said. "After a bit of back and forth, they came back with the idea for the programme."
Since graduating from SRUC, he has worked on several private country estate gardens, including working to head gardener level at Wiston House in West Sussex.
This year, he has also started his own consultation and management company offering garden advisory services and specialist garden maintenance. 
In the series, he joins Zoe and Manoj in the hunt for the UK's most spectacular home gardens with each episode featuring four contrasting gardens that represent, in different ways, the best of garden design in the area.
The judges visit each garden and score them out of ten, based on their personal perspective and particular expertise: horticultural value, imaginative design and the overall visual impact.
The winning gardens from each episode will then go head-to-head in the grand finale, where one of them will win the title of Garden of the Year.
The series starts at 9pm tonight and will air every evening on More4 until Thursday, and then on Sunday and Monday the following week. 
For more information visit the Channel 4 website.
Posted by SRUC on 22/08/2022