The role of trees in transforming food systems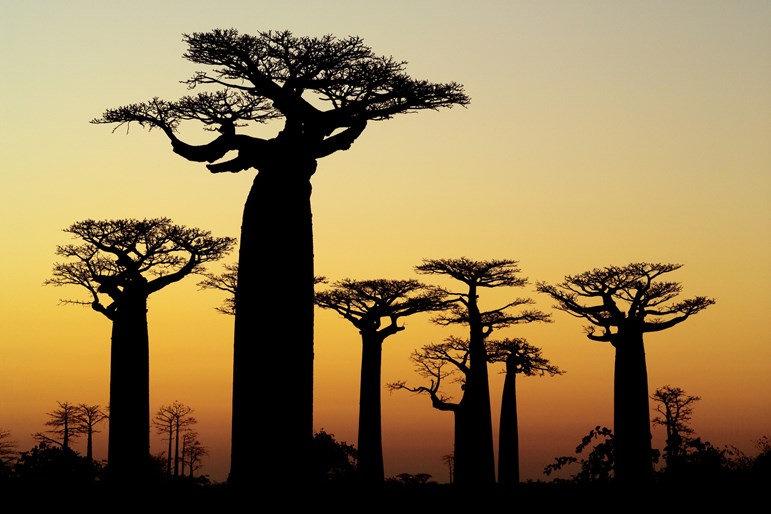 Baobab trees in Madagascar. The pulp of the baobab tree's fruit is one example of a lesser-known healthy tree food, due to its extreme richness in vitamin C.
SRUC has contributed to a new report which explains the essential role of trees and forests in delivering nutritious food to all while restoring the Earth.
In a Viewpoint published in The Lancet Planetary Health, Ian Dawson, a Reader at SRUC, describes the current and future importance of trees and forests globally.
"Many people don't think about it, but trees and forests are sources of a wide range of nutrient-rich foods, provide incomes that can be used to purchase food, and give many ecosystem services such as pollinator habitat that support food production. For example, more than half of all human-consumed fruits and all nuts grow on trees.
"Trees also play a key role in mitigating climate change and minimising its impacts on agriculture. Together, these roles have however often been overlooked because of the absence of a system-wide approach to food systems, the difficulties in measuring the multiple contributions that trees and forests make, and a focus by many on forests as sources of timber alone."
The Viewpoint, led by Amy Ickowitz from the Center for International Forestry Research based in Indonesia and Stepha McMullin from World Agroforestry based in Kenya, explains the failures of the current global food system to provide a sufficient diversity of foods for healthy diets.
It also relates the damage caused to the planet by unsustainable farming practices and agricultural expansion into natural habitats. These mean that a radical transformation of the global food system is required, and trees and forests have an important role to play.
The Viewpoint recommends four approaches to realise the full potential of trees and forests to contribute to healthy and sustainable food systems. The first is to scale up existing successful tree-based food production approaches, which means a strong focus on improving tree seed and seedling delivery to growers so that the trees can be planted, and work to ensure tree and land tenure when the products harvested from trees take a long time to grow.
The second approach is to reorient agricultural research investments away from a narrow range of staple crops towards a broader diversity of more nutrient-rich foods including tree crops. This is so that the yields of tree foods can be increased.
The third approach is to repurpose production subsidies away from calorie-rich but nutrient-poor foods towards nutrient-dense foods. This means the implementation of direct and indirect price interventions by governments that are more closely aligned to both the nutritional needs of consumers and the environmental impacts of crop production. Farmers could for example be paid not only for the environmental services that trees provide but the nutritional ones too, when food tree are planted.
The fourth and final suggestion is to integrate nutrition objectives into forest conservation and restoration programmes. This means a switch from the restoration agenda being dominated by the objective of sequestering carbon to a more holistic view in which the other benefits of tree planting are better considered. This requires moving away from a generally wood-focused productionist paradigm in large parts of the forestry sector.
As the authors of the Viewpoint conclude: "If all food system actors give trees and forests the attention they deserve, they can contribute to the transformation of our global food system for healthier people and a healthier planet."
Posted by SRUC on 22/08/2022