Elmwood recognised for support of 'Fireman Gary'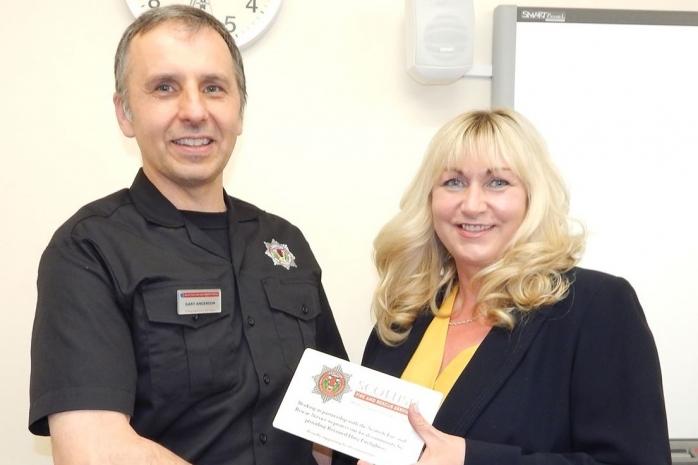 "Gary Anderson and Alison Boyle with Scottish Fire and Rescue Service plaque"


Scotland's Rural College has been recognised for its support of the Scottish Fire and Rescue Service by allowing its employers to work as retained firefighters.
Andy Bennett, station manager of Glenrothes and St Andrews Community Fire Stations, presented a plaque to Manager of Learner Engagement Alison Boyle at SRUC's Elmwood campus in Fife.
Gary Anderson, Programme Manager for Sport & Professional Golf at Elmwood, works as a retained firefighter – or RDS – in St Andrews in his spare time.
He is one of a team of retained firefighters providing a fire and rescue service from seven RDS stations in North East Fife.
As part of his duties, he is required to be available for 90 hours of service a week, and attend weekly evening and intensive weekend training sessions covering basic ladder and pump training; rescue from heights; road traffic collisions; intensive casualty care; breathing apparatus; and fire-fighting.
"As my home station is in St Andrews, I am usually only on duty for evenings, nights and parts of the weekend, but we have a collective responsibility to ensure machines are always available by maintaining minimum crew numbers of four per machine," he said.
"The Fire Service responds to most emergencies, as well as supporting other emergency services with casualty care, missing person searches as well as what would be seen as the core role of fires, road collisions, flood response and rescues."
The retained fire service is currently recruiting more volunteers in rural areas and is also recognising the role of employers who allow staff to undertake training or leave their place of work to attend an emergency.
Alison Boyle said: "We are delighted to receive a plaque in recognition of Gary Anderson's accomplishments.
"We also look forward to inviting representatives from our community fire stations to attend our open days in the future."
Check out Elmwood's next open day.
Posted by SRUC on 02/08/2019