Anything grows with new Dandelion project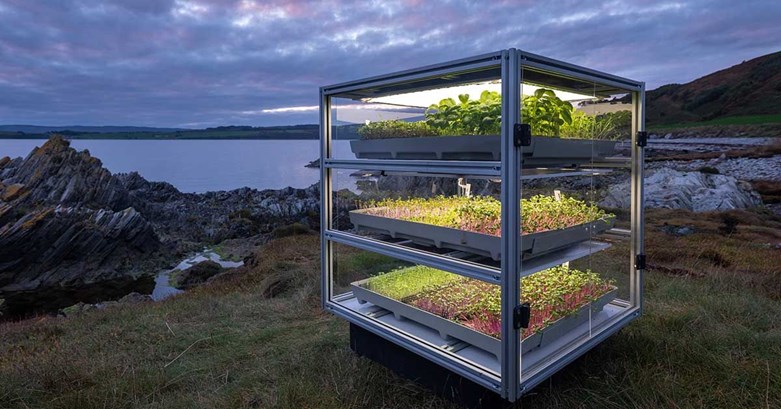 Cubes of Perpetual Light are at the centre of the project (image Alan McAteer)
SRUC is part of an innovative initiative which will see people in Scotland growing, sharing and celebrating food, music and ideas with their communities.
The Dandelion project, which will reimagine the harvest festival for the 21st century, is part of a UK-wide celebration of creativity in 2022.
Commissioned by EventScotland and funded by the Scottish Government, it was inspired by the global 'grow-your-own' movement and a surge in home-growing during the Covid-19 lockdown.
SRUC's Professor of Plant Pathology Fiona Burnett, Senior Challenge Research Fellow Hannah Rudman and Horticulture lecturer Ruth Vichos will lead on the science and growing aspects of the programme.
Dandelion follows the arc of the growing season, from April to September 2022, and will culminate in hundreds of harvest festivals across Scotland, led by the next generation of producers, musicians and growers.
It aims to make growing your own food as easy and accessible as possible to people of all ages across Scotland - from the remotest islands to the centres of cities - as well as to audiences online and around the world through films and digital activities.
The programme will see gardens and allotments spring up across Scotland in urban, rural, and remote locations, including indoors, on unused or forgotten land and in gardens. It will also show that even the unlikeliest place can bloom through individual or community action.
At the centre of Dandelion, are the Cubes of Perpetual Light - miniature vertical farms created to foster accelerated growing by combining design craft, traditional horticultural expertise, and technological innovation.
The cubes will appear in locations across the country, hosting new music commissions by Scottish and international artists – that emanate from inside the cubes - fusing innovative artistic and scientific practice together in stunning objects symbolic of Dandelion's wider programme.
They will also appear in 13 Unexpected Gardens established in surprising places from Caithness to Dumfries and Galloway, which will be open to the public from April to September 2022.
In addition, Dandelion will host two free, outdoor live music and food festivals in Glasgow around Midsummer in June and Inverness at harvest time in early September.
Alongside the public programme, the Dandelion School Growing Initiative will see 200 specially adapted growing cubes distributed to 100 secondary schools, working in partnership with 400 feeder primary schools, allowing pupils to become citizen scientists in the largest community-led growing experiment ever undertaken in Scotland. 
Fiona, Dandelion's Science and Growing Lead, said: "The interaction of food growing, science and culture in the Dandelion programme creates a huge opportunity to capture the moment of rediscovery for many over lockdown of the climate and wellbeing benefits of growing your own food, and develop it massively across Scotland.
"There are so many challenges to the future of producing food fairly and sustainably and the opportunity to fully integrate local food growing with new technologies, music and culture and get people celebrating and growing food again in this programme through our Unexpected Gardens, our festival events, and schools programme, has the potential to create a legacy for the project.
"Linking the science of food growing to the music and food festivals gives it real heart and visibility bringing in so many more people of all ages to take part and create real impact and change.
"Our citizen scientists across Scotland's schools will also be measuring the impact of science and culture on their plants - they will test futuristic growing systems to feed and raise their crops but also explore whether music nourishes their growth in the same way it does ours as part of a range of fascinating and fun activities which can actually inform the future of food production."
Dandelion is Scotland's contribution to UNBOXED, the UK-wide celebration of creativity and innovation, which includes ten specially commissioned projects.
Other Dandelion partners include Aproxima Arts, BEMIS Scotland, Celtic Connections, Fèis Rois, getMade Design, James Hutton Institute, Sustrans, musician and crofter Pàdruig Morrison and Inclusion & Evaluation Specialist Caroline Thompson.
For more information, visit the Dandelion website.
Posted by SRUC on 21/10/2021