Tackling the challenge of growing food sustainably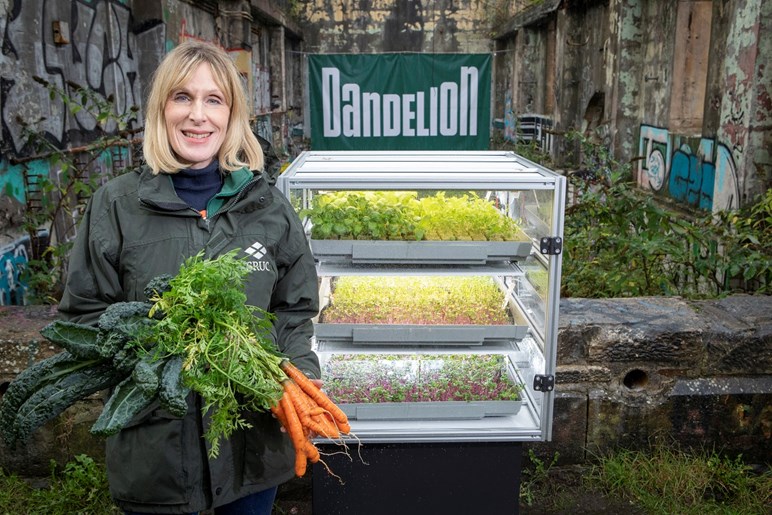 Professor of Applied Plant Pathology Fiona Burnett.
Growing food fairly and sustainably is one of the greatest challenges of our time and sits at the heart of what we do at SRUC, so the chance for us to partner in the largest 'grow your own' project ever undertaken in Scotland feels like a once in a lifetime opportunity.
The Dandelion project is launching this month as part of a series of festivals in 2022 and SRUC is leading the science, growing and student engagement aspects of this Scotland-wide festival, building new networks and alliances as we go.
The Dandelion project is funded by EventScotland and takes a unique approach to community growing; aiming to inspire hundreds of thousands of people to get involved in a national programme of sowing, growing, live music and cooking together, finishing with hundreds of harvest festival events across the country.
Taking the Dandelion motif of small, hardy things seeding, spreading and taking root, the festival includes community gardens in unexpected places, mass plant give-aways at large festival events, a schools' programme and a nation-wide tattie growing project, and explores both traditional production and futuristic growing systems.
Hundreds of mini-vertical farm cubes will form the basis for school experiments, and also be stacked to create cubes of perpetual light at festivals, to explore how Scotland could transform its food production systems.
We have just taken delivery of the first prototype cube at our teaching glasshouse in Edinburgh, into the care of SRUC Horticulture lecturer Ruth Vichos who is leading on the growing logistics for Dandelion and will also be coordinating a 'tattie army' of SRUC students to help.
Dandelion creates fabulous opportunities for SRUC students through 40 paid work placements with creative partners and there will be a call out soon for applicants who will have the chance to work on all aspects of the festival – from helping with the collection of data right through to logistical support and visitor engagement at events. SRUC students will also have the chance to engage with plant production on a commercial scale and using the new accelerated growing technology in the cubes.
Lasting connections and networks with creative partners will, we hope, create a legacy for the students involved.
As part of the science aspects of Dandelion, mini-vertical farms will go out to schools and communities to engage people in looking at fun and meaningful ways of producing food now and in the future.
Our Challenge Fellow Hannah Rudman is leading the citizen science, data capture and visualisation for Dandelion. There are serious angles to what we will learn but lots of fun to be had too - watch this space to see if greens grow better to hip-hop than classical!
It is our chance to share our skills with a future generation of growers and to highlight horticulture and agriculture as rewarding career and study options.
Dandelion is an exciting collaboration and will harness the creativity, passion and enthusiasm of schools and communities across Scotland, providing an engaging and practical route for each of us to do something positive for our own lives, our communities and the environment.
We will talk more about Dandelion as it develops and bring more information on how you can get involved.
By Fiona Burnett, Professor of Applied Plant Pathology
Posted by SRUC on 21/10/2021