No horsing around for ponyman and trainee stalker Rory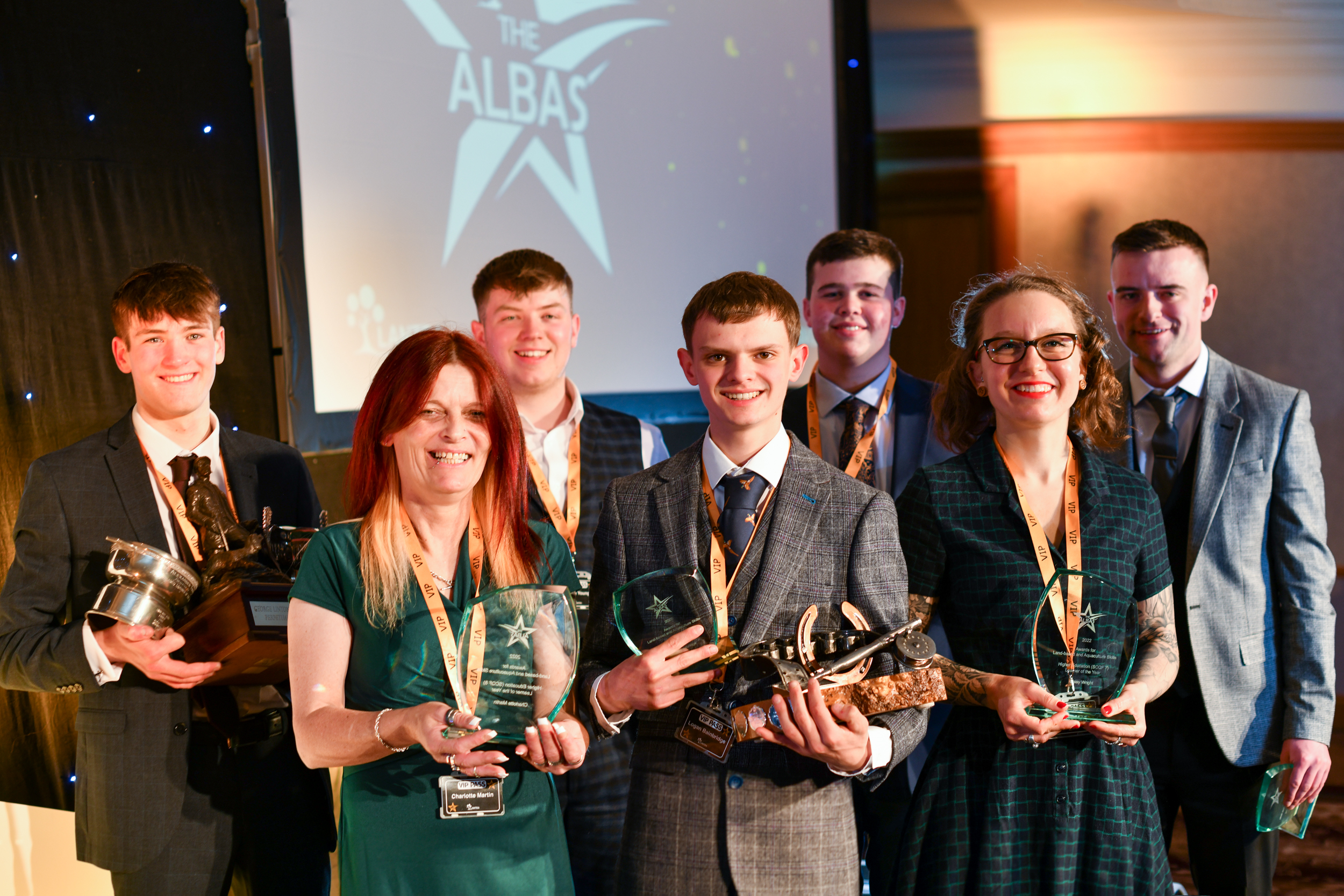 Rory, Charlotte, Martin, Logan, Billy, Daisy and Craig with their awards.

A former Gamekeeping student from SRUC won the coveted overall winner trophy at this year's Awards for Land-based and Aquaculture Skills (ALBAS).
Rory Donaldson, who completed a National Certificate in Gamekeeping at SRUC Elmwood, also won the Game and Wildlife Learner of the Year award.
It is the second year in a row an SRUC student has taken the top prize at the event, after rural skills apprentice Niall Provan won last year.
Rory, 18, who is originally from Edinburgh, now works as a Trainee Stalker and Ponyman - assisting the Head Stalker in the management and extraction of red deer off the hill using traditional highland ponies - at Drummond Estate in Glenartney.
He said: "I've always been interested in countryside sports and conservation, having regularly attended the Game and Wildlife Conservation Trust's Scottish Game Fair with my family.
"My placement at SRUC Elmwood to study NC Gamekeeping brought together all of the things I enjoyed as well as giving me new experiences, including deer management which has become my real passion.
"I'm delighted to have won these awards and would like to thank my lecturer Jim Goodland, SRUC and Drummond Estate for all the help and support I have had so far. It's been an absolute privilege."
The seven SRUC finalists came away with a total of nine prizes between them.
Fellow Elmwood Gamekeeping student Logan Bainbridge, 17, from Tarbert in Argyll and Bute, won the Tam Tod Trophy and was runner up in the Game and Wildlife Learner of the Year category.
Barony apprentice Martin Young, from Insch, Aberdeenshire, won the Land-based Engineering Learner of the Year award and Oatridge apprentice Craig Farmer, 24, from East Kilbride, was runner-up.
Martin, 20, said: "I'd like to say a massive thank you to everyone at Lantra and SRUC. I'd also like to thank my lecturer Douglas Goldie for putting up with me and putting me forward, and lastly I'd like to dedicate my award to my mum and my late grandfather Wullie."
Lanark-based Charlotte Martin, 49, who completed an HND in Countryside Management at Oatridge, won the Higher Education SCQF Level 8 category, and former Oatridge Landscape Management and Horticulture student Daisy Wright won the Higher Education SCQF Level 7 category.
Daisy, 35, from Edinburgh, said: "I feel really proud and surprised. It's nice to have the recognition."
Barony apprentice Billy Yuille, 17, from Hollybush in Ayr, was runner-up in the Agriculture Learner of the Year category.
Posted by SRUC on 04/03/2022